BearBacker Voices: A Conversation With Peter Bean
[The BearBacker Voices Summer Lecture Series keeps rolling on. At long last, we present the much-anticipated interview with Burnt Orange Nation's Peter Bean. Peter has been an Oso Amigo for nearly a year now and has supported our humble, coal-powered blog in spite of the fact that the B occupies a small blip on the UT radar. His analysis, humor and diligence have made his blog perhaps the finest all-around single-school blog in the college blogosphere. Not only does he cover pigskin, but hoops, softball and baseball as well. He has interviewed us twice in the past, the first time to preview the "I-35 Surprise" game which turned out to be a rather predictable outcome, and secondly to preview the Kevin Durant magical mystery tour. Tonight, we return the favor and turn the tables on PB. His answers may surprise you with their wit and scholarly reflection. He is a published author after all. Enjoy!]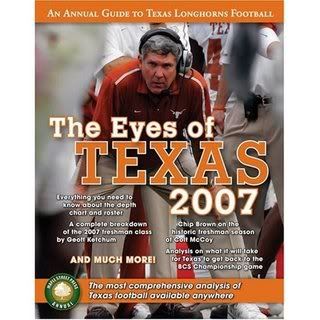 PB's Foray Into the World of Print
BearMeat: Does Baylor belong in the Big 12 conference? Should we even play in Division I? (Keep in mind, we did just finish 6th in the Big12 in the Director's Cup and 38th in the nation)
Burnt Orange Nation
: When this question gets asked, the first thing most of us think of is football. Sadly, the Bears just haven't had the muscle to be competitive in the Big 12, and you could make a case that the conference would be better served with an alternate school in there. As much as I'll joke about Baylor not belonging with us big schools in the Big 12, I don't support kicking the Bears to the curb. For one thing, Baylor's competitive in almost every other sport. For another, there's nothing inherent in the athletics department at Baylor which precludes it from being competitive in the future. The Bears belong in the Big 12 conference, even if they've been the football doormat for the past decade.
BM: How do Horns fans (men's basketball and football) view our programs? The same way Romans viewed subjugated peoples?
BON: We adore Baylor. After all, it was your win in 1997 which sealed the fate of a one John Mackovic and ushered in the Mack Brown era. And Scott Drew? I like him. And respect him. Baylor's heading the right direction in hoops.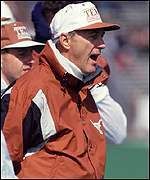 Mack or Makovic: You make the call.
BM: What is your impression of game day (same sports) in Waco, Texas? Is it even worth the drive up I-35? Floyd Casey? The Ferrell Center?
BON: I went to the Texas-Baylor game at the Ferrell Center this past spring, and had a grand ole time. Of course, that had nothing to do with the arena and everything to do with Jack Daniels. Floyd Casey? Another Longhorn favorite. There's little doubt that tickets will be abundant. Where else can we have a home road game?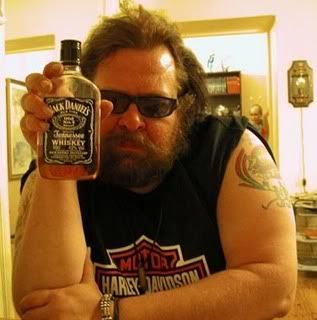 PB at Halftime of the Baylor-UT Game
BM: What is the most intersting thing about athletics at The B? The losing? The religious thing? The scandals? The traditions?
BON: Your blog. And I'm not kidding.
BM: What is with your obsession with the B's Australian Point Guard, Aaron Bruce?
BON: I'm so glad you asked. (Okay, I made you ask.) I'd kill to have Aaron Bruce on my team. The guy moves so well without the ball, uses driving angles supremely well, makes terrific reads on passing lanes, and is a bitch of a player for the opposing defense to deal with. He's THAT guy in the pick up games, always hustling, making little plays that kill you and piss you off. The turnovers are a bit of a problem, but easy to overlook. I heart Aaron Bruce.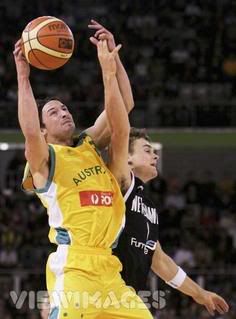 Aaron the Bruce: PB's #1 Man Crush
BM: What's it like enjoying the level of success that UT has had in the last 5 years?
BON: Imagine walking into a bar. The lights are dim, it's not crowded at all, and the bartender greets you by name. Televisions are on - ten of them, in fact - and they're all tuned in to various sporting events around the country. Except for the 90" HD screen in the middle. Which is showing lesbian porn. You don't order drinks at this bar, because the bartender places your favorites in front of you. You choose one, like you're picking a dessert off the cart. There's no need to hit on women in the bar, because they take turns hitting on you. As for paying the bill - you can forget about it. It's all on the house. Being a Texas fan lately has been like that.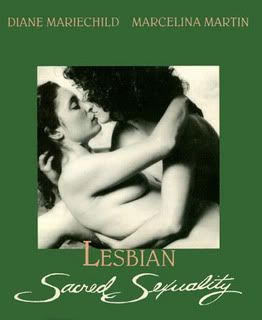 ShortHorn Entertainment:
Natives from the Isle of Lesbos
BM: Who's the bigger rival for UT: A&M or OU? How about the battle for 3rd biggest rival: Baylor or Tech?
BON: Oklahoma. No question about it. For one thing, as much as we rib the Agros, they're fellow Texans. They're our (misguided) brothers, sisters, and other family members. For another, we're just in a cycle now where we've been dominating Texas A&M. It's hard to get too fired up when you're consistently whipping your opponent. That could all change, but for now, it's the Sooners in a landslide. Third biggest rival? Have we lost to anyone else in the Big 12 more than once? Let's just move on.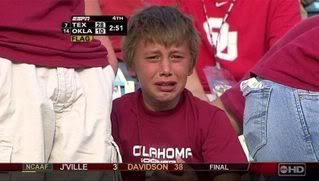 "I'm Not Crying, It's Just Raining on My Face"
BM: What's with the "Worse than Baylor" chant employed by UT fans when ridiculing a non-B opponent? It hurts our feelings, dammit.
BON: It's a lousy chant. Right down there with the "overrated" chant as my least favorite of all-time. Why demean the opponent you're just about to finish beating? Doesn't that cheapen your win? Texas fans have lame chants. I'll say it.
BM: Will a Mack Brown or Rick Barnes team ever fall to a GuyMo or Scott Drew team? What are your impressions of those latter coaches?
BON: I don't see Mack Brown losing to GuyMo any time soon, but I'll guarantee a Baylor basketball win within two years. I've already spoken to my feelings on Drew, who I like a lot. I guess I'm fairly neutral on GuyMo. Whatever BearMeat thinks works for me.
BM: Grant Teaff was 10-11 against Texas in his 21 year tenure ('73 - '94) (8-3 in games in Waco). Was this the nadir of UT football or just the zenith of Baylor football?
BON: Both? It certainly wasn't a happy time in Austin, that's for sure. I'll let you decide about the period's place in BU history.
BM: If you had to add any one school to the Big12 (to create the Big13) without swapping out Baylor, which school would it be?
BON
: TCU is the obvious choice, and probably a prudent one for this conversation. Baylor could use a friend in the private school portion of the conference. It ain't a half bad idea.
Reunite the Old SWC!
Labels: BearBacker Voices (Guest Column), Summer Lecture Series 2007