Aggie Douche: Rick Perry
We would like to introduce a new BearMeat segment known as Aggie Douches. Aggie Douches are Aggies whose idiocy, arrogance, ignorance, or sycophancy merits mention on this blog. Some Aggies are actually good people and we can name three right off of the top of our heads:
Aggie Sports Blog
, Brad of
12th ManChild
, and Congressman
Chet Edwards
, who knows how to bring home the bacon to Waco and College Station (both Bears and Aggies love pork!). Our inaugural Aggie Douche post will start at the top: the Governor of the Mighty State of Texas,
Rick Perry
.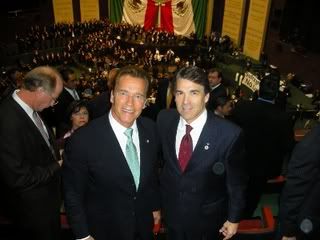 Perry and the Governator in Mexico: ¿Quien es mas macho?
Let us start off by saying that this is not a partisan blog. We cherish our current president and local boy, Dubya, more than any of his supporters (26% of the nation). His snub of Baylor in favor of SMU for his library was hard to take, but we have forgiven him and moved on. We have openly supported Democrat (gasp!) and Aggie (for shame) Chet Edwards, because of his deep, abiding commitment to Waco, Texas. Our criteria for supporting a politician is what they do for our school and region. For Perry, that means cutting MCC's budget and kicking poor Waco kids off of health insurance. Damn. We had previously brought up Perry's Douche Bag status in a post on Kevin Durant that may be of some interest to our newer readers. We are not angry at him over his hiring of village idiot Ted Nugent to play the minstrel at his re-election gala, in fact, we think that was pretty funny. Kind of an "f*ck you" to the 60% of voters (blacks, Hispanics, blue collar workers, women) who didn't vote for him. However, what caught our attention this time was Burnt Orange Nation's posting of Perry's shameful performance at the 2005 Victory Celebration of the UT National Championship. We almost forgot about that night. It's notable that Rick Perry was a cheer leader (Yell Leader) at Texas A&M, which is presumably entrusted to loyal Ags. The following photo is a typical Perry photo-op with a fellow Aggie.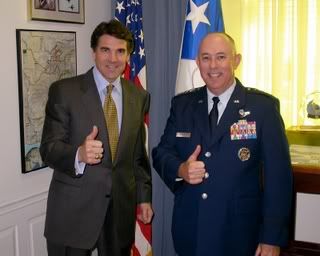 Sectarian Strife in Iraq? Gig 'em!
Notice the extended thumb "gig 'em" displayed by both Aggies. What is notable here is that Aggies are proud of their school and are not ashamed to wear their pride on their sleeve regardless of elected status or high-rank in the military. However, we now turn to the photo in question.
Perry: "When in Rome . . . Hook 'Em Horns!"
For some context, Kay Bailey Hutchison also attended the event, and she was a UT cheerleader in her days as a LongHorny. At the time, she was rumored to be contemplating a bid to unseat Perry as Governor. Her statewide approval rating was in the 70s and his was around 51%. Perhaps he didn't want to be out-Longhorned by Kay Bailey, so he decided to don the burnt orange shirt and give a vigorous "Hook 'em, Horns" to the crowd at DKR/Memorial Stadium. For those Perry apologists out there, you might say, a college football national championship is so unqiue and exceptional, that he was merely displaying state pride by his actions. Really? Where was the Mayor of Austin? Will Wynn is an Aggie alumni as well and was no where to be seen at the event. Perhaps he is actually loyal to his school. Perhaps this second photo might just bring our point home.
The Great White Panderer
Why does our Governor so openly give the salute to his school's sworn enemy? Perhaps looking at his political instincts will give us a clue. Perry's policies are generated from corporate think-tanks, designed to serve large, multi-national corporations; he has a natural impulse towards the powerful. Since UT has dominated A&M for the majority of his time in Austin (save this past season when Rome fell), it is only natural that a politician who switched political parties when the political winds began to change in the late 1980s would begin to cozy up to his alma mater's detested enemy. Ladies and Gentlemen, we present Governor Rick Perry, an Aggie Douche par excellence.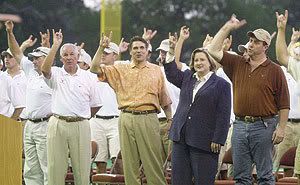 "Just Can't Get Enough of These Lovable Longhorns"
Labels: Aggie Douche, Rick Perry