62-0: What Castration Feels Like
To wet your appetite for the upcoming BearMeat interview of Peter Bean of
Burnt Orange Nation
, we stole a Youtube posted on BON today, showing highlights from the National Champion ShortHorns decimation of the B on a hot afternoon, November 2005 at The Floyd in Waco, TX. The Good Judge and I attended this game and sat in what we thought was the Baylor section, only to find ourselves two green dots surrounded by a sea of burnt orange.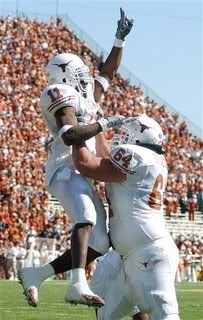 This is a photo of a Baylor home game
Needless to say, it got ugly pretty quick. The humiliation of the final score paled in comparison to 20,000+ UT fans (who outnumbered fans of the B at least 3 to 2 at kickoff) singing the Eyes of Texas after the final horn, with only a scattering of Baylor fans in the stadium. "This is how it feels to be dominated by an empire," the Judge opined. "Yes," I responded, "The only way to exact our revenge will be to start a blog, for Lord knows we'll never be able to compete with this school for as long as we live". The Good Judge agreed, but only on condition that 50% of the budget be set aside for leisurely pursuits. I heartily concurred. Without further ado, here are highlights from the game we witnessed:


For our interviews with Burnt Orange Nation see football interview and basketball interview. For our interview with CrossCyed (now Clone Chronicles) click here. For our coverage of the 2006 UT-Baylor game, click here.
Labels: BevoMeat (Texas)