#101 in the nation: There's just no polishing that turd
ESPN.com has just
ranked the top 119 football programs in the nation
in the last decade. First, the good news. Our last non-conference game this year is against the 119th team - dead last in the nation - the University of Buffalo Bulls [
Really? You didn't want to go with the Buffalo Buffaloes? Seems like a no-brainer. - Eds.
] on September 22nd, 2007, in upstate New York. That should be a guaranteed win, right? Right? [
Probably not. - Eds.
] The bad news is that Baylor is ranked 101st in the nation. Granted, there was a healthy slice of those ten years in which Kevin Steele was charting our program's ship into shark-infested waters. (The UNLV game was
ESPN's #85 most memorable college football moment
for Steele's boneheaded refusal to take a knee.)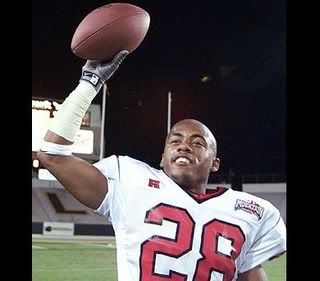 The UNLV Game: "You Gotta Know When to Hold 'em, Know When to fold 'em, know when to walk away . . . "
However, what may be notable is that Rice University is ranked higher than us. Football at Rice is deemed such a failure that there has been wide-spread talk among their alumni in the past few years about scrapping the program altogether. Why, you ask? They won 3 more SWC conference championships than us, which means they too have a historic, storied program. Why would they want to scrap football? They have a sense of pride. I'm not advocating that drastic of a course of action. Just that we need to have higher expectations. The espn.com article sums up our woes:
The emblematic moment of Bears football the past decade was the 1999 decision by coach Kevin Steele to try to punch in one more score from inside the 10 while up three on UNLV in the final seconds. Naturally, the Bears fumbled. Naturally, the Rebels ran it back 99 yards for the victory.
Naturally, Baylor remains without a winning season since 1995.
Pat Forde, in an article explaining Baylor's unique position, said Baylor is an "academically oriented private school in a meat-grinder conference full of enormous state universities." 'Nuff said.