Finally, Football Season is Upon Us.
Although games are still a month away, just the beginning of practice is enough to keep me going through August. Expectations are down, but excitement remains. As does the most important question, Will we cover the spread? Apparently last season did not go well and
GuyMo
may be forced to eat a hot lunch. I for one wasn't surprised at all about last year, well except for maybe
Army
and see I no reason why this season should be any different, except we lost our starting QB and a host of starters at the skill positions. Apparently the views on GuyMo fall into 3 camps: thinks he sucks (hire Singletary), thinks he's good, thinks they'll wait to decide. I'm not sure what other camp you could fall into, maybe the I have never heard of Baylor or what is football group.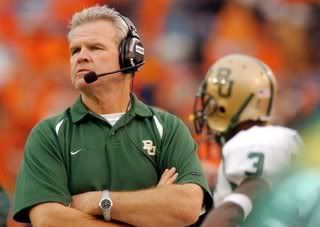 The first time in human existence someone thought, "I wish I was back in Lexington".
I mean really if you fire GuyMo what is that going to get you? I understand the desire to get Singletary back at the B, that would be exciting, but ultimately it wouldn't matter. As long as Stoops and Mack are in the South Division the best Baylor can hope for is a third place finish. Not just because of their coaching, but also because of their recruiting, recruiting Baylor will never be able to compete with unless those jobs are occupied by incompetents. Once a decade there could be a fluke and Baylor might be able to pull one out on them, but they will not beat those coaches regularly, ever. Don't even worry about it, it's like worrying about Yankees spending a lot of money, it just is. I think that
GuyMo
may finally be realizing this. It is a sad thought, I'm sure he expected success here, although I am curious what real success at Baylor could look like. But GuyMo can only control our football program.
After Mack and Stoops I think Mike Leach is right there as a good coach. He had very little to work with in Lubbock and has made them regularly successful. I think Leach will move on to another program in the not too distant future so Tech future remains uncertain. That leaves Fran, who despite having a ton of resources still manages to struggle, but seems to be slowly moving in the right direction and Mike Gundy who looks like he could make a big strides in the next couple of years. The coaching talent in the South is really good and the North, although down the last couple of years seems to have a few programs waking up. The landscape is not promising for GuyMo or Pete Carroll to be a winner at Baylor right now. The best we can hope for is the Dick Cheney timetable for victory, which means after a generation or two during a game we leave the field claiming complete and utter success despite all factual information to the contrary.
Labels: Football, GuyMo (Guy Morriss)