The War on Terror: Disgruntled Baylor Alumni Edition
or,
Crazed Alumni Track Letterman threatens to blow up Baylor from a motel in Tyler, Texas.

Who says we don't cover enough Track & Field stories? Thanks to NEWS 25, the BearMeat Editorial Board is pleased to announce that a plot to destroy our campus by one of our alumni has been foiled. David Paul Cunningham (B.S. in Engineering, 1996; Letterman in Track & Field, 1993, 1994; Played for the Rugby team; and ran Cross Country) told a switchboard operator from a motel in Tyler, Texas, that he was going to blow up buildings on Baylor's campus and made numerous Virginia Tech references. We'll let News 25 take it from here:

Authorities say David Paul Cunningham made his first call to Baylor back on the morning of May 1st. He allegedly told a switch board operator he was getting ready to put diesel drums in every basement on campus. He then made a comment about Virginia Tech. The operator immediately called Baylor Police.


The next morning Chief Jim Doak of Baylor Police received another call believed to be from Cunningham. Court documents say Cunningham threatened to physically assault Dhief Doak and again mentioned Virginia Tech. Baylor Police were able to track the calls to a motel in Tyler. Turns out Tyler Police had just filed criminal trespassing charges against Cunningham at that motel.
Wow. As if Waco and Baylor needed any more national attention from various tragedies (see our post
chronicling the Bermuda Triangle of Central Texas
), we now have a Terroristic threat made by a former track athlete. This story, as it develops, is sure to become only more bizarre. We promise to keep you updated. Sic 'Em?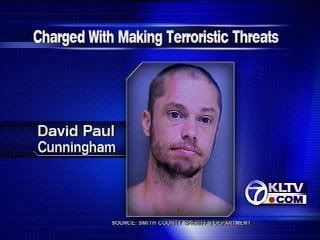 [FIRST UPDATE: This
Baylor Lariat Article
from 1995 tells of his serious head injury while playing on the rugby team. It also mentions his participation on the cross-country team. His head injury required surgery, and, we've been told, included putting a plate in David's head. An excerpt:
Dave Cunningham, a Winona senior, was seriously injured during a scrimmage, called a 'friendly,' against the University of Texas at the Austin Rugby Club. The incident occurred in the first quarter of play. Cunningham was taken to St. David's Hospital in Austin by the rugby team. Cunningham said he was kneed in the head while making a tackle. He received a broken nose, a concussion and a skull fracture. A five-hour surgery is scheduled today to close off the fractures to reduce the chance of contracting spinal meningitis. The surgery will also repair the cosmetic damage from the injury.

Our thoughts and prayers are with Dave during this time; obviously he has mental issues. Damn Longhorns. - Eds.]
[SECOND UPDATE: We now have news coverage video thanks to our Technology Editor, not to mention news that Dave has been ordered to undergo psychiatric evaluation. Might be a good idea at this point. - Eds.]

[THIRD UPDATE: As promised, the story is becoming more bizarre. The WacoTrib finally got on the ball with an updated story that wasn't based on their discussion with Chief Doak while they were doing 'Shrooms. This story reveals that Dave was arrested for trespassing at the Relax Inn (he probably lived there for a time), where he made the terroristic threat via telephone. Also, RWW on TurdPolishers.com (Baylorfans.com), who lives in Tyler, had this to say about Dave's behavior while living in Tyler:
i live in tyler and see this guy every once in a while downtown, he was rolling around in a wheelchair for the longest. i'd ask him how he was and he'd give me a look that said, "i'm in a whelchair, how do you think i am" , then i see this guy walking down the street one day like nothing's wrong. i got to the office a couple of days ago and the lady who runs little sandwich shop downstairs asked me if i saw the guy on the news, said he threatened to blow up baylor.
Uh . . . this is probably the most BearMeat story ever. Also, if you haven't noticed, "BearMeat" is now an adjective, in addition to a proper noun. - Eds.]
Labels: Baylor Sports Scandals, The Baylor Bomber (Dave Cunningham)