Sironia, Texas: The Ghost of Madison Cooper, Jr.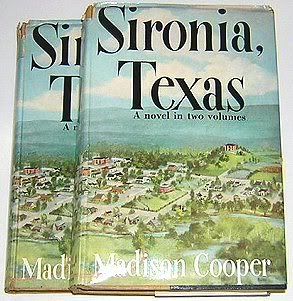 Waco's Epic Novel

Dear Readers:
Today, I would like to introduce a new idea, which is really an old idea. Great writers often write what they know. Waco had such a writer in Madison Cooper, Jr., heir to the Waco grocery fortune of the M.A. Cooper Company. For eleven years, UT alumni Cooper wrote Sironia, Texas, the longest novel to date in American literature in his attic at the family mansion at 1801 Austin Ave (now the home of the charitable Cooper Foundation), which was on the national best-seller list for 11 weeks. His book was critically acclaimed, highly-praised and was seen as a masterpiece by many, however, it had the misfortune of being published the same month as Edna Ferber's Giant (another Texas epic), Steinbeck's East of Eden and Hemmingway's Old Man and the Sea. His entry at the online Handbook of Texas sums up the epic novel:
The two-volume novel was 1,731 pages long and made publishing history as the longest novel in English originally published in book form. It presents the life of a small Texas town from 1900 to 1921 and combines an impressive array of naturalistic social detail with the conventions of Victorian novels. The book involves eighty-three characters in twenty-one separate plot lines and traces the conflict between the town's decaying Southern aristocracy and its rising merchant class. Though Cooper denied any intended resemblance, some characters and events of the novel are composites of real people and events. For example, Cooper based his character Calvin Thaxton on Pat Morris Neff and the Southern Patriots on the Ku Klux Klan of the 1920s. The full extent to which Sironia is an exposé of real citizens of Waco is obscure, for, perhaps significantly, Cooper directed in his will that his literary files be burned unread.
To us, the idea of Sironia is not unlike Washington Irving's Gotham (NYC), or William Faulkner's
Yoknapatawpha County
(Lafeyette County, Miss.); it is the world of Waco writ large - the Cosmic, literary Athens-on-the-Brazos. Sironia is the spiritual realm that we of the BearMeat Editorial Board inhabit. Fair Sironia is the many
paradoxes
and
tragedies
of Waco: it is the city's soul, its history and its diverse inhabitants. It is this idea that we wish to embrace. We someday hope that
our body of work on this great city
will be seen as part of the legacy of Madison Cooper, Jr.
Sincerely,
Red Andrews
Senior Editor, BearMeat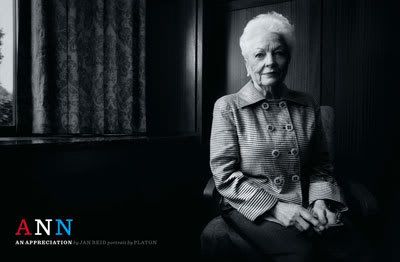 Governor Ann (B.A. 1954): The Last Sironian
Labels: Governor Ann Richards (B.A. 1954), Sironia, Waco