BearBackers: Who Are the People In Your Neighborhood?
. . . They are the people that you meet each day.
[Dear Readers,
Because we owe so much of our success to our comrades-in-arms, aka The BearBackers, we would like to briefly highlight each member of the BearBackers (those members of the BearMeat alliance who have some connection to The B or Waco, Texas). Our friends are important to us and have given us much help in recent days and in the past year. We will proceed alphabetically.
Sincerely, Red Andrews Senior Editor, BearMeat]
1. Alpha Phi Alpha, Tau Alpha chapter
. This group of upstanding gentlemen of African descent is our official fraternity. We have personal connections to this great brotherhood and after a thorough review of all campus Greek organizations, came to the unanimous conclusion that Alpha Phi Alpha was hands-down the best representative of the BearMeat ethos.
Their website
is full of interesting facts and photos.
We chronicled
the selection of this prestigious group in previous posts.
Guess Which One is Gov. Pat
2. The Big Daddy Weave
. Big Daddy Weave is a Baylor grad student who is evidently passionate about being Baptist, being progressive, and being from Georgia. As a new member of the BearBackers,
Big Daddy Weave
will most likely contribute great things to our community of friends.
3. Burnt Orange Nation (BON).
Notre Dame Law School-bound Peter Bean runs the most rigorous, comprehensive and downright amazing collegiate sports blog in these United States.
Burnt Orange Nation
is so badass, they even have a radio show. We are lucky to have him as our friend. A man who bleeds burnt orange, Peter represents the best of our rival to the South. He has promoted our blog endlessly and received nothing in return except the occasional bottle of Rebel Yell after UT losses. We'll only say this once, and only for Peter: Hook 'em! (That felt wrong.)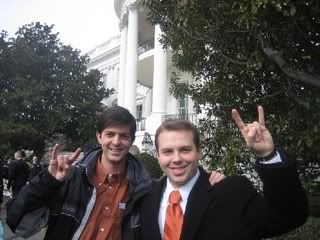 PB, Sans Orange Tie, at The White House
4. From Malibu to Waco
.
Jonathan Swanburg
is a New Yorker who went to Pepperdine (California!) for undergrad, and ended up at Baylor Law School, where he has been trying to suck the marrow out of Waco, drinking deep of the waters of the mighty Brazos (and the pilsners of the mighty
Scruffy's
). His openness to our customs and worldview has been quite refreshing. He has been a consistent supporter of BearMeat from Day One.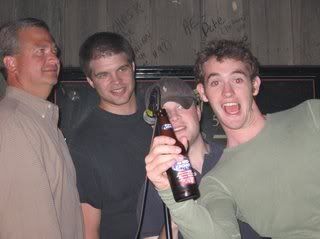 Swanburg, Guzzlin' Brews With a Member of the Federal Judiciary
5. Hashmarks
. Matt Mosley is an alumni of The B and a Dallas-Metro Area-based professional sportswriter whose NFL blog
Hashmarks
recently launched on ESPN.com. His writing is casual, engaging, and insightful, and definitely worth bookmarking. His link to our site on his blog has introduced football fans around the globe to our little coal-powered Baylor blog. Thanks, Matt, and keep up the great work for your corporate sports master.

Mosley: Bringing the Green & Gold to ESPN
6. LoomisBoy, The Homeless Son of Samuel Palmer Brooks
. What can we say about our most fanatical fan.
S.P. Brooks' hobo scion
has done his pappy proud. We're not sure what his blog is about or what he does for a living, but we do know that he does it well and does it with style! We salute a man and a blog whose sensibilities and work on behalf of our blog recently earned him the promotion to BearMeat Assistant Editor of the Research. Onward!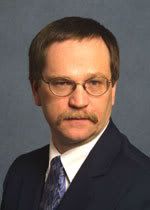 LoomisBoy: "My research indicates the interns are about to revolt."
7. Northbound.
Curtis Edmonds
. This conservative writer/lawyer (has written for the National Review) has captured our imagination and tickled our fancy (in a most inappropriate way). Though in New Jersey, of all places, he bleeds Green & Gold, and will attend the upcoming football game against Buffalo in upstate New York. Godspeed you, Curtis!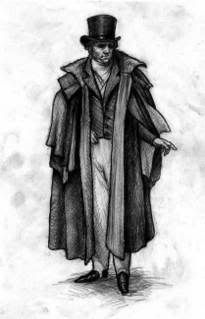 Edmonds: The Original Compassionate Conservative
8. The Noble NoZe Brotherhood
. Let us dispel a few rumors: None of the three members (yes we are three) of the BearMeat Editorial Board is, or ever was, a member of this secret campus organization. We met with
the NoZe
to discuss a discounted advertising rate for the September
Rope
last year, and entered into a strategic alliance that benefitted both parties involved. Basically, they supply the white women and we post bond when they have been locked up.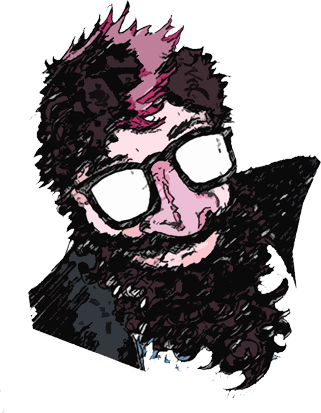 The NoZe, Not to be Confused With BearMeat
9. Osler's Razor
. No Baylor blogger, including ourselves, wields as much digital power as the
Good Professor
. His e-lectures have become famous for their wit, style, and promotion of community dialogue. His ambitious epic retelling of the
History of Baylor
, won him many detractors in the professoriate, but his popularity with the common man has never been higher. We salute you, Professor Mark Osler (J.D. Yale) for breaking down the digital wall between faculty and student at the oppressively formal Umphrey Law Center.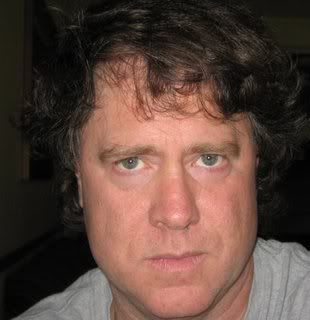 The Razor: Indie-Rock Law Prof
10. Vic Feazell
. BearMeat's Legal Counsel is an amazing human being. Ordained Baptist minister, former McLennan County D.A., indicted by a federal grand jury for mail fraud, arrested,
acquitted by jury
, recipient of one of the
largest libel verdicts in the nation's history
($58 mil), took on the Texas Rangers and won, film producer, cannibis legalization advocate, perrenial presidential candidate, and successful personal injury lawyer, etc. The man is a Waco Legend. We're lucky to have him representing us.
His website
is the most beautiful thing on the interwebs in this county.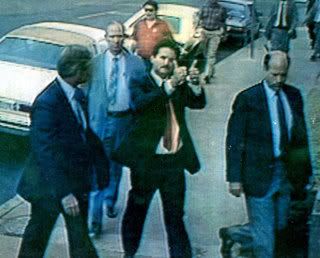 Indicted. Arrested. Acquitted.
11. Wendy Does Waco
. Wendy Gragg is the newest member of the BearBackers. Her hot new blog,
Wendy Does Waco
, brings an outsiders observations of this great town with an insiders appreciation for the subtleties, paradoxes, and mixed blessings that Waco has to offer.

Wendy Does Waco Just The Way We Like It.
Champagne for our Real Friends; Real Pain for all our
Sham Friends
!
Sic 'em!