BearBacker Voices: Swanburg's Poolside Chat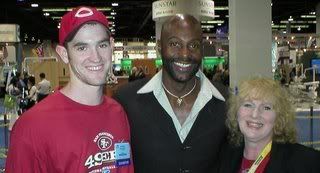 Swanburg: On a Previous Assignment With Jerry Rice
Me: Hi
Her: Do I know you?
Me: My name is Steve and I'm writing an article on Baylor sports for BearMeat.
Her: I don't play sports.
Me: That's okay.
(She seemed skeptical of BearMeat's legitimacy; I became skeptical of her ability to read. After taking a few moments to silently consider my choice of pseudonym the interview continued on.)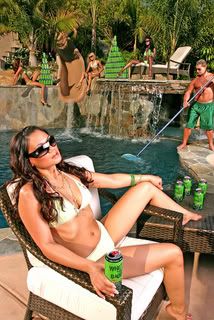 The Interviewee: One of Swan's Homelier Conquests
Her: No.
Her: No.
Me: Can you name 3 players on any one Baylor sport team?
Her: No.
Me: Did we win?
Her: Probably not.
Me: Probably true. So besides waiting 9/10th's naked to get interviewed by attractive intellectuals like myself, what do you do for fun?
Her: Hang out with my boyfriend.
Me: Would your answer be any different if I told you I had access to an unlimited supply of Jell-o shots?
Her: No.
Obviously, my friends, that's where the interview and this post end. Representing BearMeat, maybe I should have used some bigger words or at least added a dash of humor. Maybe I should have asked better questions or at least not given the finger before getting up to leave. These are things I'll work on. In the mean time, I'll take small comfort in the fact this post represents BearMeat's first mention of women's tennis and go from there.
Labels: BearBacker Voices (Guest Column), Summer Lecture Series 2007, White Women