BearBacker Voices: The Legend of Flash Bradley
[We continue our BearBacker Voices Summer Lecture Series today with the work of a former BU administrator, and current assistant editor, Dr. W.C. Brann Flake. Dr. Flake is the supervisory editor for our Football Recruitment Bureau. If you are stumbling upon this humble, coal-powered blog for the first time today, the BearBacker Voices Summer Lecture Series features articles from our dear friends and readers associated with Baylor University in some regard. Previous lectures have been delivered by Brandon Dean Price, Jonathan Swanburg, and Mark Osler. Enjoy! - Eds.]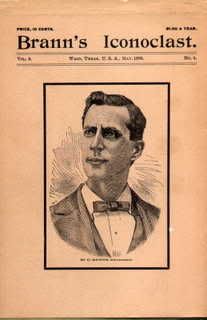 Dr. W.C. Brann Flake, Asst. Editor, BearMeat
B Football Recruiting Just Keeps Turning Heads
That B football recruiting machine just keeps on producing.
While perusing the local sports page and asking "What season is it?" this BearMeat editor found
a small gem worth attention
. Seems the B's Coach Schnupp was watching film of a receiver in Florida when he saw a "flash across the screen" (not the receiver under observation flashing across the screen; the reported "flash" was an offensive lineman).
"The Flash" in the Flesh
Now BearMeat editors obviously have some learning to do from our B football recruiting staff because we probably would never pen "offensive lineman" and "flash across the screen" in the same sentence. But, hell, what do we know. We just report it; we don't make this stuff up.
But back to the "Flash".
Seems the "Flash" is 6'6" 295 lb offensive tackle
Larry Bradley
[link is to his myspace.com page] who was invited to B's campus on the basis of his one "flash across the screen" cameo. The B was so impressed he was offered on the spot. He committed immediately. And not only committed, but is expecting to play this fall as a true freshman. "I think they're expecting me to be a bigtime player for them this year," Bradley was quoted.
BearMeat football prognosticators thought we might take a look into "Flash" Bradley's near future. Sooooo . . . . . Flash, meet Frank Okam, 3 year starting defensive tackle for the University of Texas across the line from whom you will line up. Among other items on Mr. Okam's 6'6 345lb vitae are, Parade All-American as a high school senior where he was on all major college recruiting lists, three year starter letterman for a national championship program, and most notably 2007 pre-season All-American.
"I'm more machine, now, than man."

And on "Flashes" football vitae? According to the Waco Trib report "Up until this year Bradley had never even played football." And had our crack recruiting staff not offered "Flash" a scholarship on the spot of his visit last week, where else might he have played? Well, according to "Flash" until Baylor offered he was considering, "applying to some smaller schools [where he might have a chance to play basketball]" Sounds to this BearMeat guru that the cell phone lines between "Flash" and DI, DII, OR DIII football recruiters were not exactly swamped with textmessages.

Yup, with the B football recruiting armada making raids like this one into the state of Florida, it is the BearMeat football prognosticators' consensus opinion that merely turning dirt on the 30 million dollar on-campus practice facility is already paying significant dividends.
Labels: BearBacker Voices (Guest Column), Eric Schnupp, Football, Summer Lecture Series 2007