Around the Quad: Shawn Bell is a Hoser
Dear Readers, I humbly ask your apology for yesterday's rant on Garret Lewis. While he remains an Enemy of the Blog, I do believe my wit could have been better employed. Like by arranging a foreclosure on his home. Oh well. Today, there isn't much to report, save a few scattered items, thanks to our new Assistant Editor of Research, LoomisBoy, and Google Alerts, which is quite possibly a sign of the Apocalypse. With that, I present news from Around the Quad.Sic 'em,Red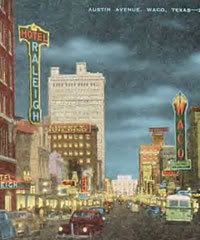 Sironia, ca. 1949
1. Shawn Bell, From Darkhorse Heisman to Canadian Superstar
. Before his collegiate career ending injury, Bell had broken nearly all of The B's passing records. Sadly his injury spelled doom for our bowl chances and, more importantly, the A&M game. However,
Shawn has emerged in Canada
and appears to be doing well for himself, except that the journalists covering the story seem to think he's a black man. Here's a quote from the Vancouver Sun on our beloved QB:
Furthermore, Bell doesn't have a howitzer for an arm. He thrived in college as a game manager who used his smarts and dink and dunk passes to make first downs. Last season, he set single-season records for passing yards, attempts, completions, completion percentage and touchdowns at Baylor, a cap-and-gown school in central Texas that traditionally operates in a different football paradigm than, say, the annual bowl-bound University of Texas Longhorns. A .500 season for the Bears is cause for a parade in Waco, Tex.
"Different Football Paradigm"? Who at the Vancouver Sun put Mr. Postmodernist to cover the football beat. Shawn "Taco" Bell? Obviously this guy Googled "Shawn Bell" and read BearMeat. What a hoser. Also, who is the photo editor, who put a picture of an African-Canadian football player with the Shawn Bell caption? Starting to remind me of Garret Lewis' "journalism."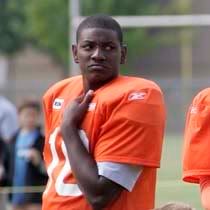 The Vancouver Sun's "Shawn Bell"
2. Mulk Gets Another Verbal Commitment, From a High School Sophomore
. What's next, Mulk? Recruiting in junior highs and elementary schools. Gotta get them while there young, we suppose.
Dallas Morning News link here
.
3. Vic Feazell Links to BearMeat
.
This link
from Vic's personal web page meant more to our Editorial Board than the all of our Pulitizers combined. Thanks Vic!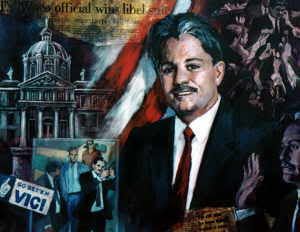 VIC: The Man, The Legend, The Website
Labels: Around the Quad, Shawn Bell for Heisman, Vic Feazell (BearMeat Legal Counsel)