Around the Quad: The Immortal Ten
[Readers,How we love you so dearly. We hold all 17 of you in our hearts and think only of your interests. That is why we bring you news from Around the Quad.Salud!Red AndrewsRunnin' shit up in these here BearMeats]
1. Immortal 10 Statue Commemorates Tragedy From 80 Years Ago
. Here in the
Bermuda Triangle of Central Texas
, we take our tragedy very seriously. It defines who we are. Lynchings, bus crashes, tornados, standoffs, cat murder, and intra-squad hoops shootings, are all part of the fabric of life on the Brazos. Its odd that it
took 80 years to commemorate a bus-train crash
in Round Rock that killed 10 people associated with the basketball team. Perhaps this is just something that we never got around to. A historical loose end that has weighed heavily on successive student government administrations.
Immortal 10: Honoring Scott Drew's Road Losing Streak
Regardless, the statue was finalized today, where the Vara Daniel Soviet Fountain once stood, so that future generations of Baylor students will know that many years ago a bus ran into a train, which prompted the erection of an overpass. Should we consider other athletics tragedies as well? Perhaps a monument to Queso the Cat is in order, or, even more somber, a statue of Dotson, Dennehy, and Bliss in Minglewood Bowl. Don't get me wrong, I actually think the statue is kind of cool, in the same way that all the lamp posts at The B are markers to the fallen in WWII, its just another strange chapter in our history being both opened and closed with the erection of that monument.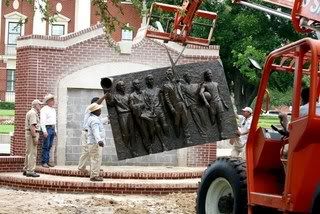 The Memorialization of a Curse
[UPDATE: Now with Youtube footage! 1996 Baylor Student Body President Chase Palmer explains the significance by dropping a big ol' Truth Bomb on News 6: "Life's precious, life's short, and these kids who see this everyday, I hope they understand that; see the meaning of that in the statue itself."]
2. New BearBacker: Poseur
.
Poseur
is a cross-blogger extrodinaire, as well as an LSU Tiger and lawyer-to-be. Perhaps he can clerk for our Legal Counsel, Vic "Y'all Aren't Making This Easy For Me, BearMeat" Feazell. Mr. Stephen Baker is sure to enhance the dialogue of these here BearMeats with his wide-ranging knowledge of libations and sport. Welcome to the S.S. BearMeat, Poseur; you will be receiving your welcome kit in the mail, along with your BearMeat Whiskey Pouch and itinerary for the next two months. Hint: you've got a lot of drinking competitions planned for this summer. Better get ready.
Poseur: Not a Poser or a Hoser
3. Greatest. Painting. Ever. After the attacks of 9/11, many in Central Texas believed local boy George W. Bush to be God's annointed leader. His home in Crawford and Baylor's bid for his li-bary seemed to indicate that this Man of God would usher in a new era of righteousness in the USA. Chicago-born painter Ron DiCianni tapped into this feeling by unveiling a painting, Praying for Peace, that was a best-seller at the Waco area Compass Christian Lifestyle Bookstore (now out of business). Compass is a corporate chain which caters to the Evangelical Christian consumer. It famously was closed on Sundays, in observance of the Sabbath, with the notable exception of the Christmas Season, when the profits were too great to resist.
Praying for a 30% Approval Rating
We here at the BearMeat Editorial Board believe that by sharing this relic from a more hopeful era in the Bush Administration, we can lure Bush's library back to Baylor, where it belongs. Those negotations with SMU must not be going so well. Why would you want a library in a town with a lesbian sheriff anyway, Mr. President? Our sheriff, Larry Lynch, is a straight, white, male Republican and would be proud to defend your legacy with every deputy at his disposal.
Labels: Around the Quad, George W. Bush Library