Lady Bears' Season Only Six Months Away
Sorry for the extended absence, Lou Dobbs and I have been busy the last copy of weeks defending our borders from day laborers. I spent most of the time fainting from the heat and opening fire on maundering fauna. But I'm back for the weekend before we set out on our West Coast tour.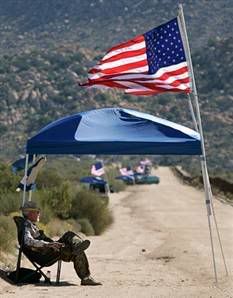 Our seniors are national treasures.
There is lots to report from the land of the Lady Bears. We lost a valuable asset to our team, assistant coach
Karen Aston
, who left to assume the head coaching position at Charlotte. We wish her the best of luck, unless we end up playing them in the future and then we will show her no mercy. We just replaced her with with
Richard Barron
, the former head coach of Princeton and who has recently studied under the best Euro-influenced mustache in the NBA, Mike D'Antoni.
And finally we have a compete picture of the 2007-08 team now that we have a signed Juco Big by the name of
Kendrea Walker
. Hopefully she will make up somewhat for the loss of WNBAer
Bernice Mosby
. We also have two
talented freshmen
coming in that should be fighting for minutes from the moment they join the team. And finally freshman
Danielle Wilson
was invited to tryout for the USA's Under 19 World Championship Team.