Dallas, Texas: Choke City
It seems that our high-fallutin' neighbor to the north, Big D, is begining to reap what is has sown. For too long Dallas and its satellite suburbs have held the world in contempt, looking down on it as uncivilized and unworthy of its time. The oil money that gave rise to its decadence, popularized in the eponymous television drama, had corrupted the very spirit of the city. The Dallas Cowboys, long the pride of the metro area, have for decades instilled a sense of superiority in Dallasites. While the Mavs have never enjoyed that role, Mark Cuban has brought a sense of defiance, pugnacity, and attitude to the franchise which had wallowed in the depths for so long. 2007 was supposed to be the Year of Dallas. But then, white-woman fanatic Tony Romo derailed the 'Boys postseason chances with a botched snap, after enjoying a meteoric rise to stardom, which included bedding Carrie "Jesus Take the Wheel" Underwood and Jessica "Waitin' On the World to Change" Simpson. With that, the 'Boys hopes were sunk.
What Would Carrie Underwood Do?
However terrible the tragedy, Dallasites had the Mavs to fall back on. Streaking across the sky with three 13+ win streaks, the Mavs 67 game regular season and likely league MVP Nowitski seemed unstoppable. No team who had won 67 games had ever not brought home the O'Brien trophy. Things seemed in the bag. Then out of the mists of the San Francisco Bay came a determined band of warriors intent on upsetting the mighty Mavs. At the helm was the Mavs former coach who had a few bones to pick with his former boss, who owed him a small fortune in gold, and his diminutive protege, whose coaching style mirrored not his own, but a pock-faced Slav who had long been his rival.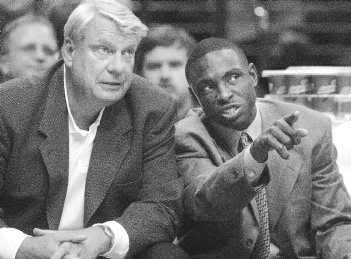 Nellie: "Forget not my teaching, my son."
With much deference and feigned fatalism, Lord Nelson rallied his rag-tag bunch of hooligans, vandals, and felons against his old team. Leading the assault on the ground was the Baron himself. Hobbled by injuries, driven by ancient hatred, the Baron had much to prove to the world. His beard commanded the respect of all who fought against him on the battlefield.
The Baron: "I will follow the German to the Gates of Hell!"
Dallas was stunned at the thumping they received at the hands of their old master. The Grand Teuton, Dirk, was cowardly in battle, shying away from the battle and resigning himself to his fate. Mark Cuban, irritant King, was silenced by his old coach, who got the ultimate vengence: the greatest upset in the history of the NBA. Exuent, Dallas.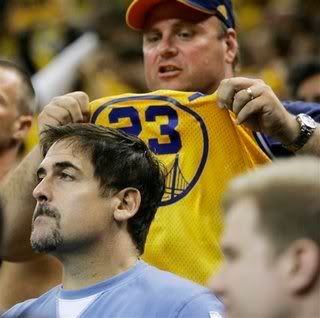 Cuban: "This is definitely going in my blog"
In this manner, the legend of
Choke City
was born.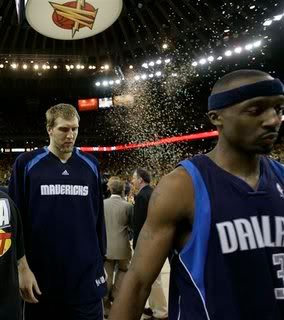 The German: "I will avenge this loss next year by losing in the second round."
Labels: NBA