Big Shot Rob: The South Texas Sniper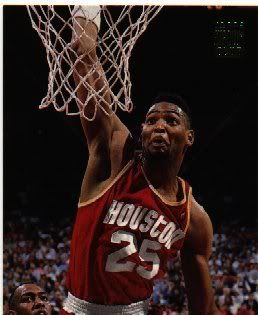 Cutting His Teeth in Clutch City
Every sport has its position that requires a specific skill that is different from the majority of the other positions. Hockey and soccer have their goalies. Football has many such positions, but the kicking positions stand apart from the normal offensive and defensive positions. Baseball has the pitcher, the catcher and the pinch hitter (not to mention the DH in the AL). Basketball, on the other hand has five players on each team who
basically
perform similar roles. While their skill sets are different, height usually distinguishes one player from the next in terms of their function. Players such as Magic Johnson (6'9" point guard), Dirk
Nowitski
(7'0" choke-artist small forward), and Allen
Iverson
(5'11" shooting guard) prove the exceptions to the general rule of height and position. Yet these positions to not necessarily determine where the player will position himself on the court. That must be done willfully, and it is not required. In baseball, the pitcher must occupy the pitcher's mound. In football, the quarterback must hike the ball from the center. The soccer goalie must guard the goal. But in basketball, the positions are so much more fluid. The game is truly wide open.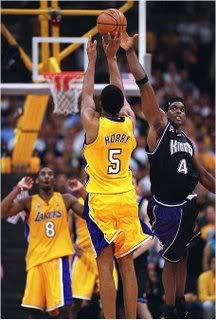 "Soon Sacramento Will Tremble At The Mention of My Name"
That is what makes
Robert

Horry
such a
bizarre
player on so many levels. He is basically the basketball equivalent of a field-goal kicker. While he rebounds, dishes, defends, dunks and shoots throughout the duration of his limited minutes on the floor, no player in NBA history has enjoyed his success as a late-game marksman. Robert
Horry
has delivered more last-second clutch shots than any player in the modern game.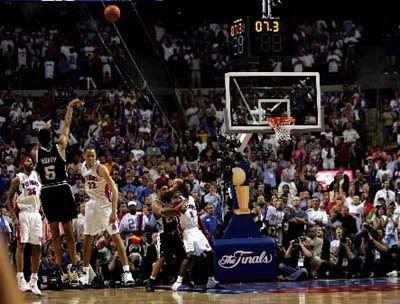 "Let The Motor City Bow Before Me"
Part of this is a function of chance;
Horry
has happened to play on three dominant dynastic franchises: Houston's Clutch City of the mid-90s, the
Lakers
3-Peat Juggernaut of the early '00s, and the grind-it-out monotony of the
Popovich
Era Spurs.
Horry
was not even the Sixth Man on any of these teams. He usually occupies the 8
th
or 9
th
spot off the bench. Yet his value to all of these teams has been incalculable. Horry, along with John Salley, is the only other player in NBA history to win championships with 3 different teams. He, along with MJ, Pippen and Kareem is the only non-Celtic to win six rings. He holds the record for NBA Finals 3Pt FGs made. He is second only to Reggie Miller in all-time Playoffs 3 Pt FGs made. Yet the weirdest Horry stat is how integral he and Steve Kerr were to winning championships over a 12 year period. Take it, Wikipedia:
Robert Horry and another clutch-shooting role player, Steve Kerr, alternated NBA Championships for a decade, and combined to win 11 championships over a twelve-year period. Either Kerr or Horry was on the roster of every NBA Championship team from the 1993-1994 season through the 2002-2003 season. Horry's teams were victorious in the NBA Finals in 1994, 1995, 2000, 2001, 2002 and 2005. Kerr's teams were winners in the NBA Finals in 1996, 1997, 1998, 1999 and 2003. Each won 3 titles playing for Phil Jackson-coached teams and every other championship with a team from Texas, the Spurs or the Rockets.
Strange, huh? Big Shot Rob, like Kerr, is the final puzzle piece for any championship contender. His knack for late-game heroics is legendary. Some critics dismiss Horry's larger-than-life reputation for clutch play as a fluke, since he only gets credit if his shots go in and bears no responsibility if they do not. This Slate article, written a few days before Horry's now-legendary Game 5 performance against the Pistons, attempts to debunk the legend. The fact of it is, that enough legendary coaches (Rudy T, Phil, Pops) trust Horry with late game shots to give him the 4th Quarter green light to shoot. Here is Exhibit A for the Defense of the Most Unique Clutch Player in Pro Sports.


In the first round this year against the Denver Nuggets, Horry hit a clutch shot with :30 left in Game 4. He's still got it. This is Horry's last season in the league. He plans on retiring next year. It is rumored that he said he would gladly trade his career, including his six rings, to be a dominant superstar. It is rumored that he feels no pressure at the end of games because he won't be responsible for the loss. It is also rumored that Horry is the greatest sports enigma of our generation. Pure luck or coincidence hardly explain this man's unique place in basketball lore.
Big Shot Rob does it again!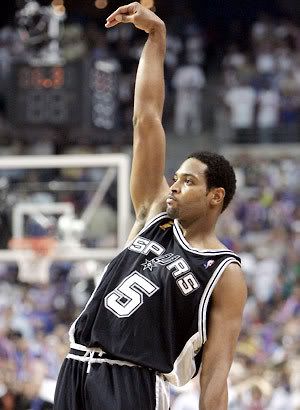 "The Simplicity of This Game Amuses Me"
Labels: NBA