Colorado Really Does Suck
Looks like Baylor ended up near the bottom of another list. This Top
Hoops and Helmet
rankings has us pulling in at 99 out of the 119 schools that have Division 1 Football and Men's basketball. The only BCS school that manages a lower ranking is the current roadkill member of the Big 12, Colorado. The next BCS school on the list is Stanford at 81. That makes me feel slightly better.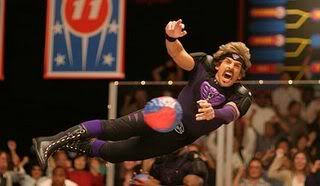 A walk-on showing his stuff during a Spring Football Drill.

NFL Cleaned Up Overnight

A few words on the NFL. It seems, based on every article I've read, that everyone is applauding the decision to suspend Adam "Pacman" Jones for an entire season. I even read an article by a real sports reporter, which I can't find now, but will link to when I do, that former Commissioner Tagliabue, as an attorney, was too concerned about due process. That's the type of ridiculousness you usually only find on a blog. I guess that cornerstone of justice in the US is too much of an impediment to arbitrary and capricious decision making. Pacman deserved a suspension, no doubt about it. But a whole year? I don't think so. I mean isn't this the same league that only suspended Shawn Merriman for four games for juicing up. Many NFL types were arguing he still deserved the NFL Defensive Player of the Year award. Doesn't that hurt the image of the league and wouldn't cheating, using steroids, damage the integrity of the NFL?
Pacman is an idiot. He really is, but he hasn't been convicted of anything, yet. I can see the argument for nailing him for not reporting the one incident in Georgia, but the other stuff that was known, I'd like there to be real legal action taken before suspending someone for an entire season. Does this mean Tank Johnson, convicted and currently sitting in jail, will get a career suspension? Not likely. I do not believe this will do anything to change the bad actors in the NFL. It may make owners/GMs/coaches more hesitant to draft certain players, but if they are talented enough, even if they fall in the draft, they will still end up on an NFL roster.
Labels: BuffaloMeat (Colorado), NFL, Pacman