Around the Quad: Warrants Issued
Dear Readers,
We at the BearMeat Editorial Board love you so dearly. Whether you have bookmarked us, found us on your University of Houston message board, or just searched "kim mulkey divorce" in Google, we are happy that you are here and reading our humble blog. Part of our duties here are to report bizarre happenings and provide news analysis for our conscientious readers. So if you aren't too hungover from last night's Tennessee win over Rutgers, or aren't busy
snorting your father's ashes
, then we hope you enjoy the news from Around the Quad.
Sincerely,
Red Andrews
Senior Editor, BearMeat
1. Say it ain't so, Billy Jo!
Billy Jo Shaver was
arrested and jailed, then released on bond
, for the non-fatal shooting of a fellow patron at Papa Jo's bar in Lorena. The patron he shot was wounded in the cheek and was carrying a bogus BearMeat "This card entitles the bearer to 3 free drinks" gift certificate. Sadly, the victim was a disgruntled intern from our embattled Brazos Living department. After his arrest, Shaver played an album release/jail release show at Waterloo Records in Austin. What a badass. Thanks to WacoTrib.com and News 6.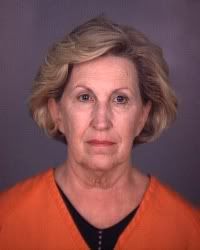 Mills: "I promise I'll pay BearMeat back all the money it donated for the downtown Whiskey District I promised them."


2. Maragaret Mills Still Owes Us Money
. Former director of Downtown Waco Maragaret Mills was arrested and charged with embezzlement of hundreds of thousands of dollars. We applaud the
great job she's done with the revitalization of downtown Waco
and hope that the criminal justice system resolves this controversy in a fair and just manner.
3. Baylor Baseball Team Has Awesome Names
. Finally venturing out to the Baylor Ballpark last night to watch the Bears
decimate old SWC foes the Houston Cougars
, I noticed that the Baylor baseball team has the greatest names I've ever seen. They barely need nicknames.
Here is the roster
. Beamer Weems? Ben Booker? Shaver Hansen? Gregg Glime? Chase Gerdes? Seth "Banana" Hammock? Who cares if we win or lose this year, I just want to hear the PA guy announce, "Now batting for your Bears, Seth "The Banana" Hammock (cue Harry Belafonte's "Day-O" at the part where he says "Come mister tally man, tally me banana"). Gold.
Labels: Around the Quad