We Are Not Alone: Baylor Sports Unlimited Returns!
It's nice to know that just when you are feeling all alone in the Baylor blog universe, playing online poker against Jerry Hill of the
Bear(ly breathing) Blog
(the first Baylor blog to see revenue from such a melancholy enterprise), that a fellow amateur blogger returns to post on his blog and suddenly you don't feel so lonely anymore. Today JudgeChamber over at
Baylor Sports Unlimited
has posted after a brief hiatus, handing out
post-season awards
to the Gentlemen Bears.
Rumors of the demise of BSU
were premature. Pulling no punches, JC tells it like it is:
Was the season a disappointment? It's hard to admit it, but yeah it was. The 4-12 conference record was the same record we had last year with no non-conference, and the only reason it was a nightmare is that (with a few exceptions) we played very competitive basketball.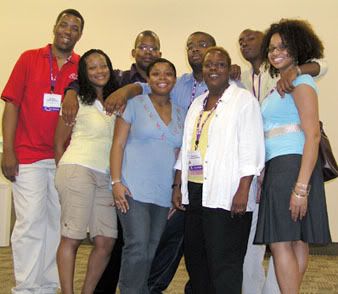 December 2006: First Annual Baylor Blog Convention. Judge Chamber is on the far left. Not pictured: Jerry Hill.