TourneyMeat: Perfect So Far
Three games are in the books. All have gone my way, although all were favored to do so. ITT Tech, the only Big 12 team I went against in the first round, lost to a mediocre BC team. I have sequestered myself in my estate to watch the various games. All my interns have disappeared elsewhere, I assume my constant insightful comments and harangues directed towards my livestock during the game would have filled them with shame for their lack of knowledge and material wealth. Without my whiskey wranglers, I was forced to freshen my own drink no less than 25 times during the first set of games. I feel that the exertion will leave me bed ridden for days. I must make sure to use my long whip when my interns sheepishly return asking for their medications and wallets, which I keep for security reasons.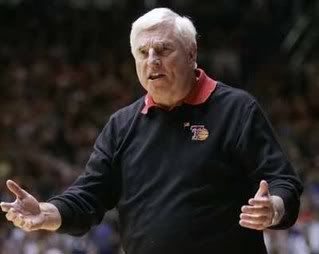 He doesn't know how he got in either?

As for the current crop of games, I dated a girl I called Oral Roberts. I'm not sure why since she was mute, refused to engage in anything other than dry humping and her last name was Morales. I have the Cougs winning, but after WSU's heartbreaking defeat of us on the gridiron I wouldn't mind seeing them lose. Oral Roberts' oppressive regime reminds me of the Sloan glory years, but with more hats.