TourneyMeat: 25-7 and 6-2, but My Bracket Takes a Huge Hit
I'm entering the fifth straight day of tourney hoops. I've watched more college basketball and consumed more High Life at this point than a scout for the Celtics. My Lady Bracket held up nicely on
day two
. Baylor winning really was all I truly cared about over the entire weekend. The BearMeat Editorial Board is very concerned about playing the Lady WolfPackers tomorrow.
As for the men, I had another solid day. I've still got
13 teams
left in the Sweet Sixteen. However, Texas, my runner-up lost. I mean they got absolutely hammered. Luckily for me, I'm in a UT League so most people had them advancing at least two rounds. Watching Texas struggle against USC, who I'm heavily pulling for in the East to send the bracket into chaos and help me win, reminded me of Baylor this season. Pat pointed out that it appeared Scott Drew gave the halftime talk.
Boys let's go out there a hoist threes and get dominated inside. Durant what I want you to do is stay about 25 feet away from the basket, without the ball in your hands, and wait until you have a chance to shoot. No matter what you do, we won't run the offense through you and we will not clear it out and let you post up the shorter, not nearly as talented guy guarding you. On three: one, two, three point carnival.

This loss hurt my bracket, hurt my Big 12 feelings, and puts me in the very awkward position of pulling for the Agrics to end up in the Final Four.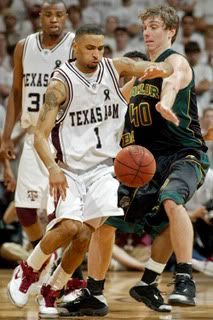 I'm just guessing, but this play ended up with Law
IV
shooting a free throw to complete a four point play.


Recently, I've been discussing and thinking a lot about college basketball and hoops in general, not in BearMeat but in my conservatory with such luminaries and Red, Pat, and Desmond Tutu, and then today I came upon this
article
. I started reading it through the beginning of question 3 and did not finish it up until after writing this post, but realized it was saying a lot of what I was thinking.
The apprentice becomes the master.
I enjoy the men's tournament. It's a great format. People have a lot of passion for their schools. It's perfect for gambling and perfectly easy to follow. But I have to say, and maybe this is the fifth of Gomez talking, combined with the Man Bears snub and bracket breaking loss, but is it just me or is college basketball really boring a lot of the time. I've literally seen almost every minute of tournament coverage, so I've seen the best play, and I can't help feeling that the level of basketball isn't as high as it could be. Sure there are some supreme, divine talents like Durant, but for the most part the games lack excitement.
I'll concede the format adds interest to the games. One and done makes a close game interesting because the outcome determines the entire season for the team. But watching it purely from a quality of basketball perspective and I can honestly say I love basketball, the college game, even at its highest levels leaves a lot to be desired. Don't get me wrong, I still love college basketball (none more than my Mulk and my Lady Bears) and I can still get completely lost in the moment of a great game. I will continue to closely follow the game and watch it more than any anyone I've ever known, but I can't ignore this less than satisfied feeling I get every year as the tournament enters the final stages.