TigerMeat: The Headless Ghost of Quin Snyder
[We here at the BearMeat Editorial Board, housed on the 13th Floor of the historic ALICO Building, have discovered a transcript of a supernatural encounter. On Monday, Associate Editor Brandon Dean Price sent two Bolivian co-ed interns to spy on Mizzou coach Mike Anderson. The interns managed to conceal themselves in the bedroom of Coach Anderson's palatial home, when a headless spirit appeared to the coach and warned him of the potential horrors that awaited him at Thursday's game against the Gentlemen Bears. This headless ghost was none other than former Mizzou coach and young Christopher Walken doppleganger Quin Snyder, whose head was removed by Scott "The Streak" Drew in mid-season after a blowout loss to Baylor last year. What follows is a transcript of the conversation between current coach Mike Anderson, whose

40 Minutes of Hell

running game may very well triumph over Scott Drew's

30 Minutes of Hell

slow-down game. - Eds.]



The Ghost Appeared before Mike Anderson





Headless Ghost of Quin Snyder:

Mike, awake from your slumber! Take heed of my words.



Mike Anderson:

Who are you, terrible spirit?



HGQS

: I am the decapitated spirit of Quin Snyder, sentenced to ride the earth, warning Big12 Coaches not to take Scott Drew's squad too lightly, lest they be sacked after a humiliating meltdown loss. See Melvin Watkins, ca 2004, and me in 2006. Ricardo Patton nearly escaped with his cranium. With Watkins on your staff, you may very well be tempting fate, to join your headless associate coach in losing to BU.



MA

: What does this have to do with me? I inherited your crappy team and am headed in the right direction, though we nearly escaped when the Bears came to town this season. Moreover, I was Nolan Richardson's right-hand man for nearly two decades, brining the 40 Minutes of Hell to Birmingham, where I led UAB to 20 wins and post-season play each year I was there.





HGQS: Lackluster play and bad coaching in Waco lulls coaches into a false sense of security. Just when you think you have Baylor beat, they strike with off-balance shots, rebound-free strategy, and ill-advised three-balls. While your record is indeed an illustrious one, even the winningest coach in history nearly lost his head to the Bears this year. In fact, he nearly surrendered it before the second game. Be careful.



MA

: Scott Drew is nothing but a good recruiter with the coaching style of Fred "Mr." Rogers. If this guy beats me, I will gladly give my head over to the BearMeat Editorial Board, so that they may sell it to Baylor for a reasonable price, to be displayed in the Colin Ferrell Center.



HGQS

: Do I have your word on that?



MA

: Sure. I will beat Baylor, or lose my noggin to those pompous, whiskey-guzzlin' bible thumpers.



HGQS

: So let it be heard.



MA

: Whatever. Let me go back to bed.



HGQS

: So . . . are you looking for a handsome assistant who studied under Coach K?



MA

: Hell no, white boy. Go back to the movie American Psycho, from whence you came.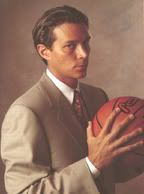 Snyder: Duke law grad and Christian Bale wannabe