Onward Baylor Soldiers: Point-Counterpoint - TV Scheduling Conflict
Tonight, Baylor fans (not to be confused with the Lomerites over at
Baylorfans.com
) have the rare television scheduling conflict and must make a choice. At 8:20pm on ESPN2 the Gentlemen Bears tip-off against a fierce Mizzou Tigers squad, which brings its 40 Minutes of Hell to bear on our team's 30 Minutes of Hell. Ten minutes later on FSN Southwest, the LadyBears tip-off against Darth Coale, aka
Trailer Mulk
, and OU (
Obeseketball University
). This is a historic and unprecedented choice for the seven or so fans that must decide between the Lady Bears and the Gentlemen Bears. Since we know of no other way of resolving this dilemma, we have asked each head coach to make the case for why fans should watch their team and not the other team.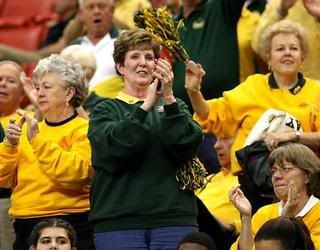 For some fans, the choice is a no-brainer
Point: We are a Ranked Team, Playing our Rival, And Will Go Deep in the Big Dance

by Kim Mulkey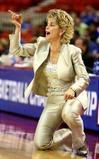 Speaking as a National Champion, I must say that this decision shouldn't be much of a decision at all. My LadyBears teams have played in the post-season each year that I have been here. I have lead this team to three straight Sweet 16s. We have one of the premiere players in the nation in Bernice "BMo" Mosby, who is a nominee for the John Wooden Award. Tonight we play our arch-rival OU for the sixth time in two years. Lord willing, tonight will finally be the game where we topple that trailer-park coach and her fat frontline.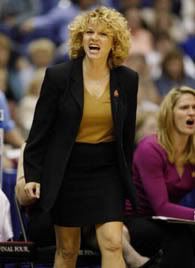 Coale: Mulk's "Country Cousin"
When have I ever done you wrong? Don't forget that it was I who led Baylor to the promised land less than two years after the tragedy of the Bliss Era. It was I who turned around a losing program and led them to 7 straight 20-win seasons. It was I who has brought style, class, and pride back to The B. It was I who did not need a full decade to rebuild a losing team, unlike some male coaches I know. Consider that our team is exciting, competitive, and will play again after tonight. The choice shouldn't be difficult.
Counterpoint: We Have Josh Lomers
by Scott Drew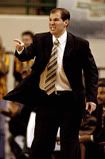 Two words: Josh Lomers. Did you see the A&M game? Did you see his merciless screens? Did you see the tenacity in the way he boxed out? Don't give me numbers
[14 Minutes, 5 Fouls, 2 Points, 0 Rebounds - Eds.]
because Josh is so much more than numbers. He is a legitimate All-American candidate and, I'm told, a finalist for the
Wooden Player Award
, given annually to the player whose game most resembles a sequoia. If my advisers at Baylorfans.com are any indication,
Lomers is a rising star
, around whom we must re-build from the ashes of Bliss. In my fourth year as head coach, I have shown amazing progress. I have proved that I can win on the road with that OT game against A&M in '04. I have equalled my personal record for conference wins this season. I have brought in a roster full of guards who all need the ball in their hands to be effective. I am an excellent recruiter.
Josh "El Arbol" Lomers
This team is worth watching for Lomers alone, but if you needed another reason, let me give you one: three-pointers. Sure, they usually don't go in, but we take a lot of them and they make the game so unpredictable. With my patented
30 Minutes of Hell
basketball, I guarantee at least a competitive game for 3/4 of your viewing. While we do suffer from linguistic barriers, the
International Three-Point Carnival
I have assembled is ready for whatever the mighty Mizzou Tigers may throw at us. My assistants have informed me that this Tourney is held at a neutral site, so I don't have to worry about jinxing my
Four Year Road Losing Streak
. We may very well win tonight and get another shot at toppling mighty Texas tomorrow night. Now doesn't that tickle your fancy? Watch us. I guarantee you won't be totally disappointed.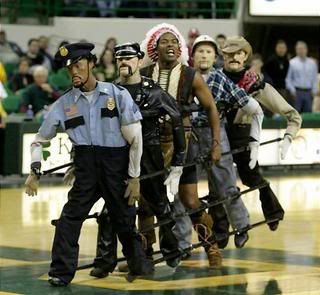 Tim Bush Showing Off a Scott Drew Practice Drill
Labels: Mulk (Kim Mulkey), Onward Baylor Soldiers, Scott Drew, SoonerMeat (Oklahoma), TigerMeat (Mizzou)