MocMeat: To Kill a Mockingbird
As Mulk
denies rumors
of her $10 mil (USD) deal, and BearMeat sweats out another day of the Good Judge's
miraculous bracket
sitting atop the
BON standings
, we turn our focus to UT-Chattanooga. The LadyMocs come into the game with the same record as the B (25-7) and having a solid record of recent tourney appearances under Wes Moore. While they didn't beat any ranked opponents this year, the LadyMocs may be poised to strike at the LadyBears as we look ahead to giant-slayer NC State (The LadyWolfpack?).
"Go to Waco, report what you find, so that I too may worship Mulk."
I will be brief in my comments regarding the Mocs and will keep my counsel to two main points. 1) Contain Alex Anderson,
a true 20 and 10 threat
in the frontcourt; and 2) Mulk must draw on all of her coaching acumen to defeat the
subtlely-strategic style
of Wes "Less is" Moore. For the first point, perhaps we can rotate Rachel Allison and Danielle Wilson on Alex, as we did with Courtney in our last meeting in the Tourney. Allison's front-the-beast defense took the
Okie Moby Dick
out of the game for a long stretch. Perhaps we could apply this strategy to Anderson. On my next point, not that she needs any advice, but I think Mulk would be best served to pull out all the stops in working the refs, pumping the crowd and riding her girls to the second round. I don't know what Moore has planned, but obviously he has a good mid-major squad at UTC which has a proven record. We don't want any upsets before we get our chance to play in the Sweet 16. If the LadyBears follow my wise counsel, I believe we will find ourselves playing on Tuesday.
Sic 'em, LadyBears!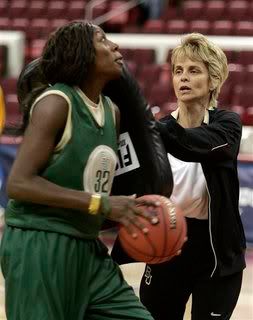 "This Tourney is Your Chance at Redemption, Champ."
Labels: LadyMeat (2007 NCAA Tourney), MocMeat (UT - Chattanooga), Mulk (Kim Mulkey)