BuseyMeat: The Crown Prince of Stillwater
[Many readers would like to read a recap or at least some commentary on last night's humiliating double-feature. However, in true BearMeat fashion, we look only to the future and long-forgotten past, never to the immediate past. Thus, we turn to the next logical subject: Gary Busey. Oklahoma State, aka Okie Jr., has not featured prominently on BearMeat, because frankly, we don't really know what to make of the school. However, our interns, working 18 hour shifts, discovered that William Gareth Jacob Busey, Sr. was one-credit shy of graduating as a CowPoke. This, of course, was a window into the soul of OK2, with which we couldn't be more pleased. As the Gentlemen Bears lament/celebrate the continuation of the infamous/glorious Scott Drew Four Year Road Losing Streak, they must now turn their attention to a meaningless home game, from which Baylorfans.com pollyannas will prove that Drew and the Josh Lomers All-Stars deserve another four years of rebuilding. After this final home game, the Bears travel northward to face the same team in the first round of the Big12 tourney. We must become intimately familiar with this team, who will be sans Boggan for the first of our meetings. - Eds.]
Oklahoma State, The Gary Busey of the Big12




Former Greatness

Both Gary Busey and Okie Jr have experienced much success in the past. For Gary Busey, that meant staring in The Buddy Holly Story, which garnered him an Oscar nomination at just 34 years of age. What followed for Busey was a roller coaster ride of box office success and failure. He owned the 1980s with D.C. Cab (featuring former BearMeat Intern Mr. T), Silver Bullet, and Lethal Weapon, and continued his dominance of the silver screen in the 1990s with such hits as Predator 2, Fear and Loathing in Las Vegas, Point Break, and Under Siege. Busey was a man's man - fearless to a fault and chompers the size of horse teeth. There wasn't a man in America who didn't want to be Gary Busey the action star, the thespian, and the untamed warrior.

Similarly, Oklahoma State, formerly Oklahoma A&M, has seen its fair share of wordly success, whether it be historic dominance in Greco-Roman style collegiate wrestling (34 National Championships), alumni Garth Brooks's takeover of the country-western music industry in the 1990s ("Blame it all on my roots . . ."), 21 Olympic Gold Medals for OSU Alumni, or Eddie Sutton's long reign as perennial contender in men's basketball. In fact, in the mid-1940s, the CowPokes, aka the Fightin' Buseys, became the first school to win back-to-back championships in NCAA hoops. [This was the same decade that saw the Gentlemen Bears also peak in the sport, with the devastating Final Four loss to Adolph "I'll never play a Negro" Rupp.]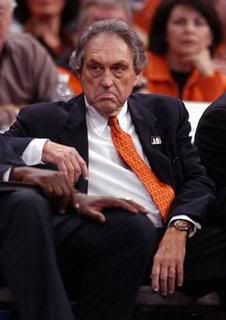 "If Grandpa Ain't Happy, Nobody's Happy"

Backwoods Reputation

Another striking similarity between Busey and OSU, is their rural reputation. As a native of Baytown, TX, who attended both the cosmopolitan Pittsburgh State (Kansas) and Okla A&M, Busey, cut his acting teeth playing Middle-America types, fresh off the farm. Busey as Lubbock-native Buddy Holly was a perfect fit, as was his role as the homo-erotic Nevada sheriff in Fear and Loathing. In fact, in 1975 he played the last person to be killed in the TV series Gunsmoke.
Likewise, the former OKAMU, has its institutional roots in serving the agricultural interests of the State of Oklahoma. With its historic reputation as the country cousin of Oklahoma (imagine if Uncle Jesse from Dukes of Hazard had a "country cousin" - it would be like that), OSU has worked hard to shed its image as the Rural Bumpkin of the Big12. Eddie Sutton did an excellent job in the mid-1990s of recruiting scholar-athletes who would preside over a Stanford-esque renewal of sport and learning at OSU, the prime example being Bryant "Big Country" Reeves.

Like Rice Univ.'s Owl, OSU's noble mascot symbolizes its commitment to scholarly inquiry for inquiry's sake. The Cowboy is not just a ranch hand, but is a poet, an artist, and a scholar; and he joins the illustrious tradition of Big12 White Man Mascots - The Aggie, The Corn Husker, The Red Raider (aka Anglo Zorro), The Sooner, and Baylor's Bear Bryant. Yes, the CowPoke, aka Pistol Pete, is truly a Man of the Modern World, with one foot firmly rooted in the past, and the other foot stepping into a space ship.
Despair, Wild Living, and Substance Problems

Yet if VH1's Behind the Music has taught us anything, with every meteoric rise, there is a corresponding plummet into the depths of despair, self-destruction, and humiliation. For our man Busey, that meant a motorcycle accident in 1988 leaving him permanently brain damaged, and a cocaine overdose in 1995 that nearly cost his life in addition to introducing him to the Dark Lord. As if his bad luck and substance abuse weren't enough, Gary's comeback was almost as bad, joining Promise Keepers, finding religion, and doing a reality TV show (how cliché!).


For OSU, this period has been the last few years of Poke Basketball. Eddie Sutton's descent into alcoholism, prescription abuse, and scowling disorder, has been a difficult time for Cowboy fans. Indeed, the problem became so great that Eddie had to resign from his head coaching post and pursue other activities (Campaigning for a Strom Thurmond National Memorial? Drinking as much 3% Beer as the human body will allow? Gambling in OK's many Indian Casinos? Okie Noodling? A BearMeat Editor could speculate on such things for days). Regardless, Sutton's exit was hardly the triumphant farewell of Ronald Reagan, or the graceful fade away of Marlon Brando, but it was full of sound and fury, signifying nothing. Such disgrace is unbecoming of so noble a school; an unbearable truth, yet it must be endured.

Lackluster Second Generation

The final similarity between Gary Busey and Oklahoma State is the generational theme. Where Busey has conceded that he will never act at the same level witnessed in Rookie of the Year, he has passed on the torch to his half-talented offspring, Jake Busey, who's career looks to be the Junior Varsity version of his father's. Young Jake carries on the Busey legacy with pride and the characteristic Busey family clinical insanity. His acting credits include UPN's quickly cancelled Shasta McNasty and a bit part in Starship Troopers. Soldier on, Busey Jr., for you shall inherit the kingdom.
Oklahoma A&M has its very own Prince Hal in Sean Sutton, the sickly and aged-before-his-time heir apparent finally took the throne from Sutton I during the Great Abdication. While Sean has shown some flashes of the greatness of Eddie, his Big12 record speaks for itself. While a win at Baylor and a strong showing in the Big12 Tourney may prove this humble writer wrong, we believe that the true coaching genes in the family were passed not to Sean, but to Oral Roberts coaching phenom Scott Sutton.
So, there you have it. Oklahoma State is the Gary Busey of the Big12.

Sic 'em.
Labels: BuseyMeat (Oklahoma State)