LadyMeat: In Mulk We Trust
[This is the first installment of BearMeat's LadyBears NCAA tourney preview. This is not to be confused with the Good Judge's TourneyMeat, which chronicles, in detail, the hourly status of his bracket picks in the men's tournament, where he is free to pursue his whims, unencumbered by school loyalty, thanks to Mr. Drew.]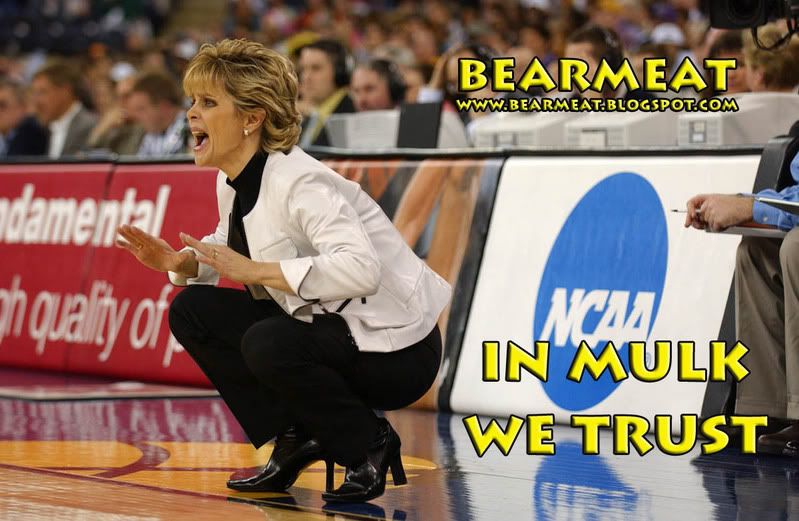 More BearMeat Wallpapers Here!

On Sunday afternoon at 1:30p in Raleigh, North Carolina, the LadyBears will take on the University of Tennessee at Chattanooga's LadyMocs (Mockingbirds, who apparently are expert railroad engineers). We expect a large victory with little to no effort expended. The coach of the LadyMocs has expressed his fear and respect of the LadyBears, which is the first step in dealing with loss: acceptance. That we will triumph on Sunday is not the subject of debate in the BearMeat Editorial Board Meetings. No, the real issue that we have been discussing and debating is the future of Kim Mulkey's career.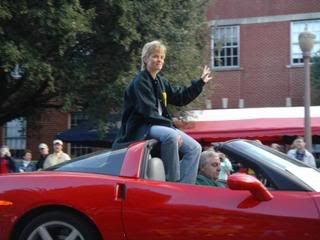 The Queen Acknowledges Her Subjects
In the past few weeks, coaching vacancies at Florida, Texas (BearMeat salutes BU alum Jody Conradt), and, most frighteningly, LSU, have reminded fans of the B that Mulk is a white hot commodity in the world of women's basketball. Rumors, speculation, and yellow journalism have contributed to the widespread fear among Baylorites that the Brazos Queen would indeed depart this sacred river valley for greener pastures. Visions of Mulk in Burnt Orange terrorized us, while Governor Pat related a dream in which Mulk was mounted on a Purple and Yellow tiger leading toothless cajuns into battle against our Baptist Bears. As recently as yesterday, Jerry Hill, of The Bear Blog fame, outlined the various potential career paths open to Mulk, should she so choose. The McLennan County Turd Polisher Society (more commonly known as Baylorfans.com), had even sponsored a "Why We Love Mulk" event, in which participants all wore "MulkStaches" and sang songs of her conquests in battle. But in true Turd Polisher fashion, the event was only the opening act for A Salute to Scott Drew: Six Years Until Rebuilding is Complete. This event was hosted by a man calling himself Caesar, who brought the Drew tribute to a fitting climax when he knelt before Josh Lomers and cried his heart out about the changing demands of the electronics retail industry.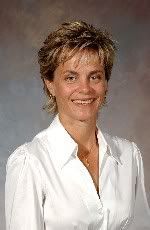 Mulk: "Don't Mistake Me for Your Beloved Lomers"
However, sources close to Grandpa Lilley and Ian "Drew Por Vida" McCaw, today revealed that Mulk had just signed a contract for ten years to the tune of $1 million a year (USD). Apparently, Mulk negotiates sans agent and astride a mustang. Mulk's latest contract reflects Baylor's confidence in her as a coach and the B's commitment to championship-level excellence in our athletic programs. If we can't get Drew and GuyMo to post winning seasons, then we at least better dance with the one who brought us: Mulk. I personally have not been this proud of my school since . . . well, since Mulk brought a NCAA Championship back to Waco in '05. Ponying up the cash necessary to keep Mulk was the right decision to make. Lilley, you done good. McCaw, you're a better man than Tom Stanton. The Good Judge founded this school on such decisions, I closed out the Independence chapter of Baylor history with the same type of forward thinking, and Governor Pat weathered the Depression with the same merciless sense of necessity. She is worth every penny and so much more. She is the one who rescued us from the despair of the Bliss Era. She is the one who reminded us of the glory of the Teaff years. She is the one who defied the critics who condescend to Baylor.

In Mulk We Trust.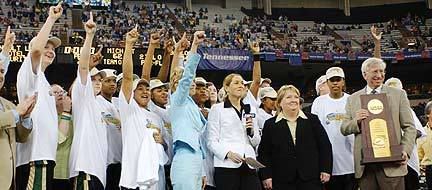 2005. 'Nuff Said.
Labels: LadyBears Hoops, LadyMeat (2007 NCAA Tourney), Mulk (Kim Mulkey)