Is It Football Season Yet? On Second Thought How's Track Doing?
After the Bears lost last week I was thrown into a pit of despair. Nothing, not even a round of my favorite game, " Two She Bears Attacking the Defenseless, Virginal Judge Baylor" could get me out of my funk.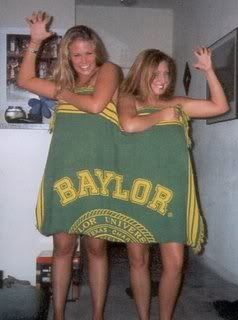 These sister interns, Debbie and Lexus, have been Honorable Mention All-BearMeat since their freshman year.
I felt that the only thing that would break the cycle of self-loathing and misdirected anger would be to leave Waco City Limits. I haven't left Waco since I took the train to Temple to attend an octogenarian plus rally for Barry Goldwater's presidential campaign. I will always love his ad that showed a little girl picking a daisy and then being destroyed by a mushroom cloud. I agreed with Goldwater, that girl was soft on Communism. I'm still not sure how he lost. Temple would not be enough this time, I needed to go international. I loaded up the pope mobile I bought on layaway last year and headed for Stillwater, Oklahoma. I'll give more details as the weekend unfolds.