Around the Quad: We Bow Before Our Okie Overlords
Well, rooting for BU is a difficult task when there aren't two games airing simultaneously on FSN and ESPN2, so you could imagine the emotional and logistical problems suffered by the BearMeat Editorial Board as we 1) tried to figure out how to work a "remote control"; 2) tried to figure out how the box with moving pictures worked; and 3) wondered aloud how a good God could let Mulk and the LadyBears go 0-6 against Darth Coale, aka Trailer Mulk, in the Era of Paris. By the way, did any loyal BearMeat readers or interns see that Trailer Mulk was showing cleavage last night? We sure did. Is that a classy move for a young coach, or is that just a case of "you can take an Okie out of the trailer park, but you can't take the trailer park out of an Okie"? Let's start with some news from Around the Quad:


Two Girls Lookin' For a Man With a Double-Wide


1. Gentlemen Bears Victorious. Bring on Texas University. Regardless, the Gentlemen Bears, in the game with much less on the line, trounced Mike Anderson's Mizzou squad, answering their 40 Minutes of Hell with our own 30 Minutes of Hell + 10 Minutes of Purgatory. Seriously, the ManBears shot 61% from 3, 63% FT, and 63% FG. We imagine last night's game to be the exact model that Scott Drew envisioned when he began this season: three pointers going in, the team passing and rebounding well, running the fast break, playing decent defense. The crazy thing was that the players seemed to want to win the game. It was nice to finally end our long Big12 tournament winless streak, which began back in 2001. Curtis Jerrells and Henry Dugat are by far our big-time players. They have consistently stepped up and are the best 2 guards in our "In Guards We Trust" offense. Bruce and Tweety have played well too and next season will be interesting as all four continue to improve. Jerrells is the leader of this squad. Hands down, this is his time, so he needs to show strength and selflessness out there as we face up against UT. I thought all hope was lost this season, but that win over Mizzou has got me starting to believe in our Bears again.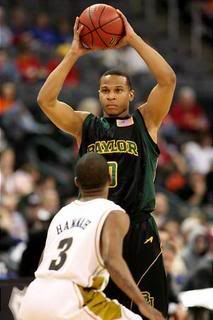 Curtis Jerrells: Our Last, Best Hope

While there is no substitute for wins (two straight 4-12 years in conference play), one statistic from last night's game did catch my eye. In 2006, the Bears lost nine (9) conference games by 15 points or more, whereas in 2007, we lost eight (8) conference games by 10 points or less. While another 4-12 season is inexcusable, at least we're not losing by as much as we did last year (whatever that's worth). I'm starting to sound like the Lomerites at Baylorfans.com. If Scott Drew can bring in another MickeyD's All-American Guard to this team, we may have the first ever 5-Guard Offense, which will at least be known throughout the land, if only for its recurring appearances on America's Funniest Videos. Tonight, we face the Roman Empire: Texas University at Moscow-on-the-Colorado. Can we compete? Yes. Can we win? Well, what do the bones say?

2. LadyBears Lose to Okie Overlords; Darth Coale Mocks Us With Display of Ample Bosom. Let me be the first to suggest that the LadyBears save themselves the humiliation by forefitting both OU games next year in advance. Coale, the Parises, and now Plumley (?) own our LadyBears. They are our masters and we must bow to their hegemony. Jessica Morrow played like a woman possessed, while Bernice Mosby played like my retarded cousin. Jhasmin Player stepped up, as did Darrett, but in the end, we have no match for their unstoppable inside game, nor their NBA-range outside game. [Praying] Lord Jesus, please don't let us have to face them in the Big Dance. Anyone but them, Lord. We promise to pay our back-tithes in full and stop hiring Muslim interns. Thank you, Lord.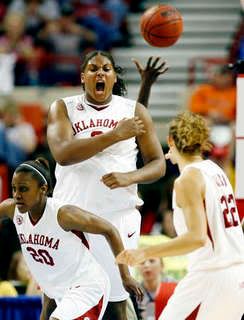 Someone thinks they're still casting for Xena: Warrior Princess
Labels: Around the Quad, Gentlemen Bears Hoops, LadyBears Hoops, Mulk (Kim Mulkey), SoonerMeat (Oklahoma), TigerMeat (Mizzou)