Around the Quad: Kneel Before Mulk
Greetings, fair readers. We of the BearMeat Editorial Board salute you for your fidelity, curiousity and jaded sense of Baylor affiliation. Today we present a hodge-podge of news from Around the Quad to give you good reasons to make it through the day, stuck in a cubicle in downtown Houston, wishing for the death of your braggart Aggie co-worker. That's why we're here.
1. UT-Chattanooga Coach Fears the Lady Bears
. The LadyMocs coach
Wes Moore
is
heaping much praise
on his first-round opponent, the fightin' LadyBears. Is this a strategy or just an expression of fealty? Hard to tell, but his submissiveness to Mulk is very respectful. Let us hope Mulk will have mercy on these peons and only beat them by 20 - 30 points. Sic 'em, Mulk! (Don't leave us!)
Moore: "This is my worst nightmare come true."
2. Sunday Morning Quarterback preview of 2007 BU Football Season.
After three grueling days of interviews with BearMeat,
Sunday Morning Quarterback
, aka SMQ, has finally completed his better-late-than-never
preview of Baylor's 2007 Football Season.
You may find a choice quote or two from this author as well as a few bleak assessments. Happy hunting!
3. Bring Me the Head of Dale Layer.
After another disappointing season, which included a loss to the lowly Gentlemen Bears,
Colorado State fired head coach Dale Layer
. This seems to me to be another head for Drew to collect. Anytime a coach is fired and that coach lost to Baylor in his last season, the
head of the fired coach belongs to Baylor University
and is collected by the BearMeat Cranium Collection Agency, which charges a meager 40% commission on
all heads collected
.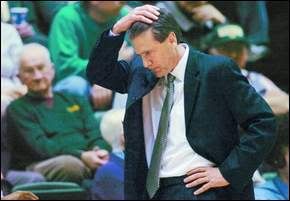 Layer: "I'm sure gonna miss this old head."
4. Joakim Noah. Enemy of BearMeat, or embodiment of our ethos?
I'm not sure if this odd fellow is a symbol of all that is wrong with college sports, or all that is good. We call on all of our readers to weigh in on this issue. Factors to consider: he
wears a dress to class
sometimes, he has a
Euro Grill
, and he comes from
a privileged family
. Also, see the following YouTube video before you make your final determination.
Noah: Lovable Eccentric or Arrogant Oddball?
Labels: Around the Quad, Bring Me The Head Of . . ., Mulk (Kim Mulkey)