Around the Quad: The Gnashing of Teeth
This Lenten season has been particularly hard on the BearMeat Editorial Board. While the Good Judge has given up Zima for lent, Governor Pat has sacrificed Light Beer, and, I, the august Red Andrews, have given up my tolerance for losing. Thank God Easter is right around the corner. If Baylor (i.e. Ian McCaw & Grandpa Lilley) decides to give up Kim Mulkey for Lent, then BearMeat will be forced into transforming the world's first Baylor sports blog (sorry Jerry Hill) into the world's first anti-Baylor sports blog. And with that threat, we bring you news from Around the Quad.
1. Mulk. It does a body
good
. The Baylor Lariat Editorial Board has crafted a
fine editorial
pleading with The B not to let Mulk go. We couldn't agree more. Similarly Jerry "Over the" Hill has
posted about the LadyBears final game
over at Bear Blog. We also couldn't help but shed a tear as we chuckled at the Editorial Cartoon over at the Lariat today. Please, Baylor, don't let our Mulk leave us. Pay whatever she wants.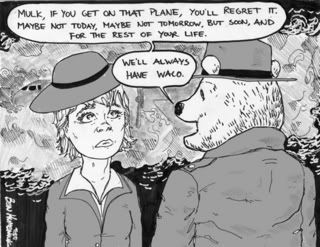 2. Baylor: Second Most Gay-Friendly School in McLennan County
. This
Lariat article
discusses Baylor's ongoing efforts to portray itself as in step with the modern world. Its weird though when uber-patriot and self-proclaimed culture warrior Bill (
horny for interns
) O'Reilly sympathizes with the targets of
our school policy
. Of course, TurdPolishers.com was
all over this
controversy with their characteristic reasonableness, compassion, and understanding.
3. New Homeless Member of the BearMeat Alliance.
Welcome, Homeless Son of Samuel Palmer Brooks. We of the BearMeat Editorial Board are a bit confused about what it is your blog does, but that is the exact response most people have when first encountering BearMeat. So, soldier on,
Homeless Son
!
LoomisBoy, Homeless Son of S.P. Brooks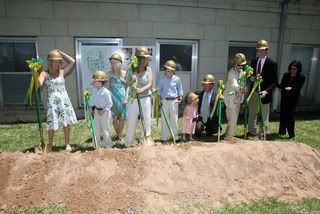 The Rest of the Brooks Clan, Signing Off On The Building of Baylor's Version of Hogwarts
Labels: Around the Quad, Hogwarts: Brooks "College", Mulk (Kim Mulkey)