RaiderMeat: "You'll Love Your New Home, Grandpa"
[There comes a time in every senior citizen's life when they must decide when to move into an assisted-living facility. This is a difficult decision that is often made for our nation's elderly by their own children. When grandma and grandpa can no longer live on their own, concerned family members and friends step in and suggest that they move into a managed-care residence. This is precisely what BearMeat would like to do for Bobby Knight. What follows is a letter to Mr. Knight on behalf of concerned college basketball fans and well-wishers, who have only his best interest in mind. - Eds.]
Dear Mr. Knight:
Greetings. We write this letter today to persuade you that continuing to coach at Texas Technical College is harming your reputation,
your legacy
, and your health. When at Indiana, you led the Hoosiers to three championships, countless Final Fours, yearly tourney berths, and more respect and fear from opponents than any coach has ever received. After three decades of dutiful service to IU, you left that school under
a cloud of controversy
and the early onset of dementia. We know as well as you that West Texas is a climate and culture much more suited to a temperment like yours and that older individuals enjoy states with warm temperatures, traditional values, and no income taxes. You seem content here and we are happy that the unique culture of West Texas has embraced you as one of their own.
Anger. Paranoia. Dementia. Lubbock.
However, now that you have netted your 880th career win and having nothing to look forward to besides more early exits from the Big Dance, we of the BearMeat Editorial Board strongly urge you to consider retiring from coaching. We know that coaching is your life, but if you consider that
you lost to Baylor University this year
at the Colin Ferrell Center, one year after being restrained by Baylor police from
attacking a student heckler
, you might begin to see that you are perceived as a coach in decline. Your opinions on
the silliness of the three pointer
and the specter of
one-year freshman phenoms
show just how cantankerous you have become. Your difficulties with certain Tech administrators is a pattern that has continued uninterrupted since your final days as a Hoosier.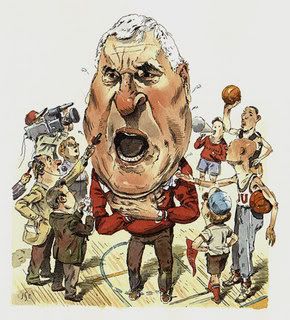 The General: "The World Has Turned And Left Me Here."
Why don't you do the sporting world a favor and hang up your bull-whip now before Baylor takes the last shred of your dignity by ending the Scott Drew Three-Year Road Losing Streak with a victory in Lubbock. We three ghosts of the BearMeat Editorial Board are also men of a more noble era. We understand that your principles can never be compromised. You are a man of honor; a champion; a General. However, like Brutus of old, there comes a time when the most noble thing to do is to fall on one's sword rather than suffer defeat at the hands of an unworthy opponent. Baylor is such an opponent. Two losses in one season to this
International Three Point Carnival
is beneath you. The grumblings you will hear following such a defeat will be from the Regents of Texas Institute of Technology as they consider removing your head and sending it to the
BearMeat Editorial Offices in the ALICO building
for safekeeping to go with
our collection
.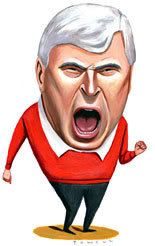 It's Okay, Grandpa, Matlock Will Be on Again at 7:30
We write this out of sympathy, compassion, and a deep commitment to the rights of the elderly.
Good day and God bless,
Red Andrews
Senior Editor, BearMeat
Labels: Bring Me The Head Of . . ., Gentlemen Bears Hoops, RaiderMeat (Texas Tech)