RaiderMeat: The Sand Aggies
[What follows is a recipe for how to make Texas Technical College

RaiderMeatLoaf

. Follow these simple instructions and you will have a delicious dish perfect for any

occasion

, especially coaching resignation parties. - Eds.]
1. Pour one bottle of

O'Douls

into a mixing bowl.
As a semi-dry city, Lubbock, has a strange relationship with the demon rum. We of the
BearMeat
Editorial Board can think of no place more undesirable to attend school than one where there are 28,000+ horny undergrads and not a drop to drink. While the municipal government is making great strides to join the modern world in this arena, the fact remains that alcohol in Lubbock is heavily-regulated. Not what you'd expect from such free market devotees. Take it,
Wikipedia
:
Lubbock County and the City of Lubbock have an unusual legal situation regarding the sale of alcoholic beverages. The county allows package sales but not "by the drink" sales except at private institutions such as country clubs. Inside the Lubbock city limits, the situation is reversed with restaurants and bars able to serve alcohol but liquor stores forbidden. Lubbock remained legally dry until an election on April 9, 1972, made liquor by the drink, but not package sales, legal, and Lubbock abandoned its distinction as the largest dry city in the country.[5] A privately owned conglomeration of liquor stores (the "strip") is located just outside of the city limit on U.S. Highway 87. On November 21, 2006, the Lubbock City Council voted 5-1 to annex "the strip", making package alcohol sales legal within the city limits. There exist, however, significant barriers to entry for stores outside "the strip" area to sell packaged alcohol. The new annexation will contribute a sales tax of 1.5%, or 10 cents for every 7 dollars, to the city. Due to state law, liquor sales will be limited to the newly annexed area.
That is what we at
BearMeat
refer to as a Byzantine alcohol distribution law.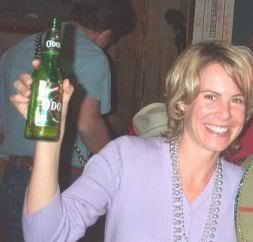 O'Douls: When In Lubbock . . .
2. Next, mix in a handful of sand.
In West Texas, most cities are artificially created and sustained, as there is no life-giving river, like the Brazos
de
Dios
, to bring together a natural human settlement. No, the West Texas project is all about carving an unnatural existence out of a geographical wasteland for the harvesting of mineral resources. As fun and hot as the rest of Texas is, the thought of spending day after day in the
stifling
desert heat, with no alcohol, in a county that refuses to distribute prophylactics, one can see how quickly things can turn ugly.
3. Next, two cups of inferiority complex and spoonful of ignorance.
Like their East Texas counterpart, the Sand
Aggies
, sure do have a big chip on their shoulder. Nothing says penis envy like "Get Your Guns Up." Also, like A&M, Tech has a white man as their mascot. Instead of a chesty corpsman, here in Lubbock the mascot is an Anglo Zorro who goes by the name Masked Rider, aka Ghost Rider, and not to be confused with Raider Red, aka Yosemite Sam on a horse. If only this tradition didn't result in so
many equine fatalities
.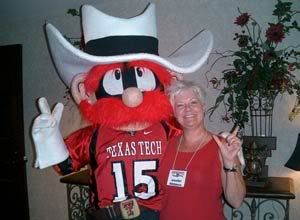 "Get Your Guns Up" Was Scrapped as Levitra's Slogan
4. Next, mix a heaping spoonful of dry humor and a pinch of sarcasm.
Like other conservative TX schools, Tech has its discontents, some of whom even have a satirical paper. Like the
Texas Travesty
at t.u. (I'm beginning to sound like an Aggie myself!), or
The Rope
at the B,
the Perversity
brings the noise and the funk to a
white-bread
, sanctimonious, and way too sober university. Now that is something we can relate to. However, we must quibble with their lack of anonymity. Being anonymous is perhaps the greatest freedom of all: freedom from responsibility.
5. Finally, add a few thighs of white meat.
The White Women at Tech are just the kind of girls that we here at
BearMeat
prefer: internalized
patriarchal
, sexually permissive, status-obsessed, ambitious, and unabashedly superficial. These are the type of women that make up 85% of our 2007 Intern Roster. They take a
lickin
' and keep on
tickin
'. Thank you, Sand
Aggies
, for creating a habitat where this increasingly rare species can flourish without threat from the modern world.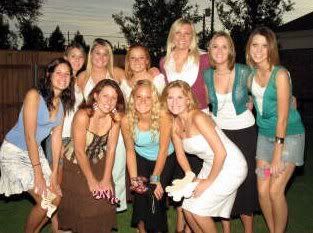 White Women: The Other White Meat
This dish is sure to please any
connoisseur
of fine desert foods. Best if served hot, with ice tea, and a helping of moralism.
Labels: RaiderMeat (Texas Tech), White Women