Onward Baylor Soliders: Why We Fight
[After a historic convening of the BearMeat Editorial Board, we have decided to feature a few regular segments on our blog.

"Onward Baylor Soldiers"

is a twice-weekly column by Red Andrews, intended to restore faith and pride in Baylor and its sports teams. - Eds.]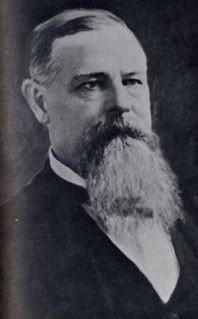 Red Andrews, Keeper of the Flame
Today I address the Bear Faithful in an attempt to renew the fervor that once characterized Baylor fandom. Many non-Baylorites have queried me, "Red, how can you and the BearMeat crew continue to keep the flame going for such a disappointing athletic program?" "Red, how can your root for a rich-kid school like Baylor?" "Red, can 14,000 students be wrong?" "Red, why do you love Baylor?" My answer to such questions is not a simple one. It usually involves charts, graphs and a powerpoint presentation, capped off by my baritone rendition of the hip hop remix of "That Good Old Baylor Line." This becomes very tiresome, as my response usually takes a good 35-45 minutes out of my workday and requires a small pyrotechnic demonstration. In the interest of brevity, I've decided to distill this epic argument down to a single BearMeat post for the general public. I hope you enjoy.
1. Lovable Losers.
The B is the Chicago Cubs of the Big12. Like the Cubs, we are cursed. Our curses involve an Indian Princess buried on our campus, a fatal bus crash which spawned the Immortal Ten Legend, the Waco Tornado, the Branch Davidians, the shooting of William Cowper Brann, Dave Bliss, and the Waco Horror. Such tragedy has created a veritable Bermuda Triangle of Central Texas with its center in Waco. Also, like the Cubbies, we have diehard, but non-threatening fans, like Darth Baylor, the Bear Pit, and the Baylor Line. Our fans are quite tolerant of losing and will stick with a coach until the bitter end. While we have history of producing winning teams in all sports, the past 15 years have been a long decline into low expectations. In general, we are a modest school that loves our teams and poses no real threat to our opponents in the televised sports. For men's hoops and football, seeing "Baylor" on your schedule is like seeing "Weekend in Tahiti" on your calendar; its something you look forward to.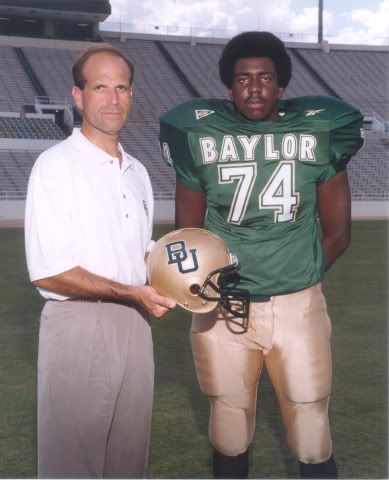 Losers? Yes. Lovable? I guess.

"But," you ask, "That doesn't explain why you love the Bears." Simply put, just as other teams love the Bears so do we, for the Bears afford us a chance to examine life's deeper significance. Surely, being a Baylor fan is not an exercise in exhilaration. Instead it is a metaphysical exploration into the larger questions of life, death and the problem of suffering in the world. Why do bad things happen to good people? With much of our time spent getting accustomed to life's disappointing valleys, when the rare conference triumph comes our way, it is all the more savory.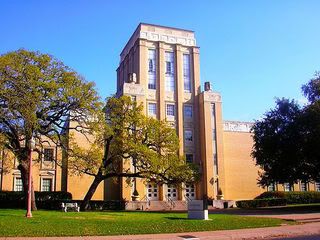 Behold, The Tidwell Babel Building
2. Tradition.
Our tradition and traditions are rich and meaningful. Baylor is the oldest continuous institution of higher education in the great state of Texas, having been chartered by the Republic of Texas, a sovereign nation. The B's contribution to the State of Texas is immeasurable; we have educated more quality teachers, doctors, lawyers, ministers, nurses, public servants and other professionals over a longer period of time than any other school. Our Homecoming festivities feature the oldest and largest homecoming parade in the nation, which began in 1909. Our football team has been lacing up since 1899. We have had live black bears on campus since 1917. The Baylor Line, formed in 1970, was 2,000 freshman strong this year. We are steeped in history and everyday we add to the illustrious legacy of our school. With such a past, its hard not to take pride in our school.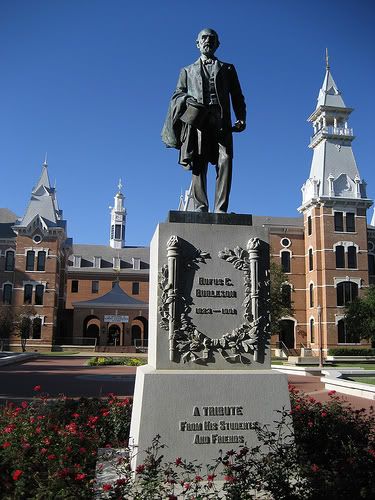 3. We Are The Heart of Texas.
From Hillsboro to Belton and from Gatesville to Groesbeck, BU is the only D1 school to root for. We have been in Waco since 1886 (when Baylor and Waco University merged) and in Texas since 1845 (Independence). Our Bears have gone on to serve every community in the region for over 150 years. Our rivalries go back over a century, our alumni proudly don the green and gold, and our students proudly sing our fight song. All of our favorite fan places - George's, Scruffy's, Uncle Dan's, Michna's, Health Camp, Baris - are distinctively Texan and we wouldn't have it any other way.
The B embodies the paradox of traditional Texas: Party on Saturday Night and pray on Sunday Morning. The George's Tent at the Floyd is a good symbol of this tension. The public face of the school is a righteous one, but the private face of the school reveals our true selves. We shall not delve into the impurities of off-campus life here, but suffice it to say that Bears can get a little rowdy. This is an essential Texan quality.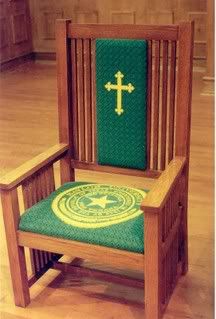 The Throne of Baylor

In summation, as stands the B, so stands the Republic. We are historic, we are vibrant, and we are proud. Be prepared for a BU Revival. Be prepared and be vigilant.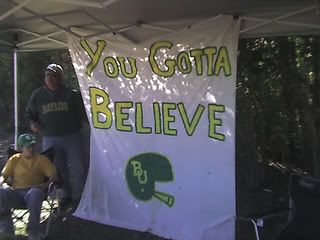 So, Onward Baylor Soldiers! Sic 'Em!
Labels: Kevin Steele, Onward Baylor Soldiers, Tidwell Babel Building