Onward Baylor Soldiers: How To Stop Kevin Durant
[While the LadyBears take on OSU tonight and the Gentlemen Bears are going to face Mizzou (sans Quin Snyder's head), we thought it appropriate to begin our hype for the UT game on Saturday, since it features a player, the likes of which won't be seen in the Big12 for quite some time. - Eds.]


The last meeting between our Bears and the Shorthorns ended with
TU escaping 84-79
. Kevin "El Salvador" Durant, the future of the NBA, dropped 34 and 9 on our boys, including 3 3-Balls. With comparisons to Nowitzski, McGrady, Garnett and Jesus, Durant is perhaps the most hyped player ever to lace-up in the Lone Star State. For BearMeat, we are intent on instructing the Gentlemen Bears how to stop this juggernaut. While the Horns themselves are fairing decently since the departure of nearly every player from last year's top-ranked squad, they are most definitely beatable, as K-State proved earlier this year. So, we present a how-to on stopping Kevin Durant.
1. Anger him. Its obvious that traditional tactics are of no use against El Salvador's game. We have no player that can even begin to think about defending Durant. Therefore, one of our best bets is luring him into getting technical fouls and possibly ejected. This may be difficult, since his whole reason for playing D1 Hoops this year is because the NBA won't let him play yet, so doing anything that would jeopardize his earning potential is not on his agenda. However, the age-old method of drawing a man's ire should be employed ever so discreetly,
ala Jason Terry: The Testicle Punch
. This method almost never fails. So, we call on all coaches, players, trainers and fans, to look for the opportunity to give a "love tap" to Durant, perhaps when he has dived into the stands for a loose ball or has fallen among the cheerleaders after a hard foul under the basket. It is our duty to derail this locomotive. Be on your guard. Sic 'em!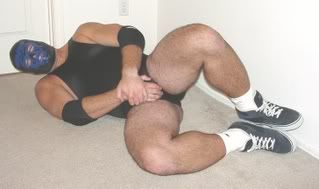 Luchador Intern Pre-enacting Durant's Pain
No one who has just been punched in the balls is a rational actor, so after receiving such a punch with no real camera footage of the punch (let's hope its still on FSN and not ESPN!), the refs will have no choice but to eject the star from the Will Ferrell Center (aka,
the Feral Center
).
2. Distract him.
Durant is assuredly thinking of his post-collegiate career. That means NBA scouts, sports agents, shoe companies, and other endorsement representatives will most likely be in attendance. We have dispatched several interns to pose as representatives for Nike, Coca-Cola, and Durex Condoms (Kevin "Durex" Durant - "Don't let size determine your position"), who will each communicate offers of several hundred million dollars before the game, culminating with one particularly voluptuous intern requesting that he attend a private soirée at the Playboy Mansion that will feature a copulation contest. Nothing will get inside an 18-year-old's head like million-dollar contracts and the potential for luxury-class nookie.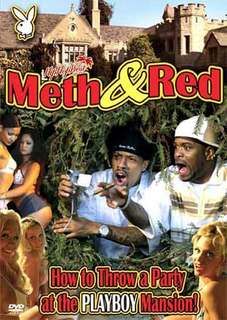 BearMeat Intern Orientation Video
However, since he seems to be a sweet, traditional mamma's boy, perhaps arranging court-side tickets for
Lil' Wayne and Sponge Bob Sqaurepants
would be enough of a distraction during the game. This will most likely backfire, as Durex will want to impress his heroes more than chat them up during the second half.
3. Injure him.
Last but not least, we will be dispatching multitudes of interns to strategically place banana peels in places where Durant will likely set foot. If he's injured, he can't drop 30+ on us again. If this doesn't quite work, we have an intern posing as a UT trainer, who will actually attempt to dislocate certain joints during pre-game stretches. Finally, there has got to be a way to twist one of those skinny ankles. Have you seen his legs? They're like toothpicks. Surely, it wouldn't be too hard to crack one. Oh well, we can dream, I guess.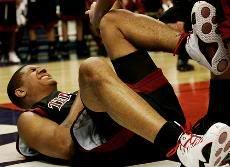 Banana Peel: 1, Durant: 0
4. Taunt him. While this is the most traditional method, perhaps if we can get people that he might not expect to razz him, he will be crestfallen. Example: his mother. Every person has their price and that NBA money isn't flowing in quite yet, so for a few ducats, Mrs. Durant may agree to shout a few morale-draining, expletive-ridden insults at her own son. We bought off Vince Young's mother during the 2005 season (
though that seemed to backfire
), so I'm sure we can keep it going with Durant's mom.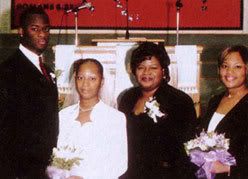 If these four methods do not work, then we'll have to attempt to contain the single-most unstoppable player in the country with our
International Three-Point Carnival!
If one of our 3.5 guards can get hot, then we may just have a chance to keep the loss within single digits.
Sic 'Em Bears! Saw 'Em Off!
Labels: BevoMeat (Texas), Gentlemen Bears Hoops, Interns, Onward Baylor Soldiers