Mutiny on the Burleson: The Governor is Betrayed
[After Christmas Day, Governor Pat Neffistopholes set out on a Baylor recruiting trip aboard a sea vessel accompanied by Robert Sloan, Dave Bliss, and Kevin Steele. We lost contact with their ship after 3 Kings Day (1/6/2007) and haven't received any communication from them since. Late yesterday afternoon, a seagull flew in the open window of our 13th floor offices in the ALICO building and had a parchment tied to its leg. Lo and behold, it was a message from Gov Pat! The bird appeared to have the markings of a sea gull from the Philippines. The following is a hastily-transcribed version of Pat's journal entry from January 10th, 2007, A.D. - Eds.]
January 2007
Wednesday 10th. Dear Sirs and Interns. Catastrophic events have unfolded since we last anchored and made contact with our Maritime Alico Scribe, Intern Felix the Fishmonger. Knowing full well that a recruiting trip encompassing basketball, football and equestrian had never been accomplished throughout the lore of Division I, I have no one to blame but the founders and boosters of our great institution for the failure that has transpired upon Her Regency's Bark the Burleson.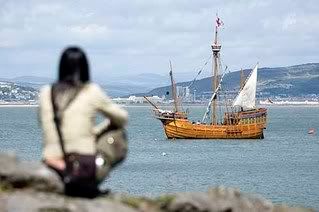 Unbeknownst to my immediate crew, my life almost departed a mere 4 days ago upon the end of our 3 Kings Day festivities. Due to my struggles with extravagancy and intemperance, I nearly succumbed to an early mutiny on board the HR Bark the Burleson after I unloaded the ship's navigation and communications systems overboard in favor of copious amounts of port wine and steel cages for future pleasures.
Now I write you, my beloved BearMeat, trusting the cleptoparasitic frigate bird to deliver my extensive notes on goodwill, gamesmanship and most importantly, athletic recruitment (i.e. cash and medicine). Unfortunately, my post-mutiny crew consists entirely of Coach David Bliss, the ship's Armourer, Coach Kevin Steele, the Naturalist, Dr. Robert Sloan, the Baptist Boatswain, and my somewhat predictable yet always hefty Aztec servant, La Puma.
Without a doubt, I cannot conceive of a fiercer quartet of backstabbers in the history of maritime navigation. However, without a doubt, we will unearth the Sumatran Colt McCoy; we will hunt down the Argentinean Acie Law el Quattro; we will stone the Palestinian Paul Revere.
For we are the crew of Her Regency's Bark the Burleson! Sic 'em Bears!
p.s. The wind runs southeasterly and the days are disagreeable. I fear the worst as I smell Manila. Very reminiscent of our early voyage down the Brazos. The crew must be careful amid the filth and waste of Austronesia's College Station.
Pat Neffistopheles
Labels: ALICO Building, Dave Bliss, Interns, Kevin Steele, Mutiny on the Burleson: Governor Pat's Recruiting Trip, Robert Sloan