HuskerMeat: Two Hobos Fighting Over a Chicken Bone
Have you ever witnessed the pathetic charade of two homeless men fighting over a scrap of food. We here at BearMeat have. In fact, during our lunch breaks, the interns often tempt local hobos with chicken bones, attempting to get them to wrestle for a drumstick bone. While we have received condemnation from Human Rights Watch for this policy, we think it serves as an apt description of what happens when Nebraska men's basketball comes to town.
The Gentlemen Bears have indeed seen better days. The Emu, Aaron Bruce, has pulled a Shawn Bell, and injured himself, almost guaranteeing the continuation of our 3 Year Road Losing Streak. Senior power forward Tim Bush is out for the rest of his final season as a Bear. Penny Thiam was out before the season began and though they have been suiting up,
Lomers and Mamadou
might has well have been on the DL all season long. We come into tonight's game injured, demoralized, and penniless; much like a hobo. Will Nebraska have the kindness to put this team out of our misery, or will they string us along and have us lose on a badly run final play?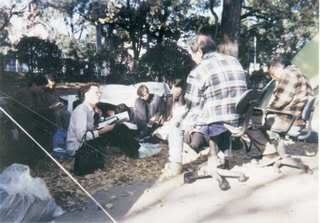 BearMeat's Court-Ordered "Bibles & Chickenbones" Outreach
However, much like a battered and bruised team of corn-eating hobos, the Huskers come into Waco after having taken
a felonious beating from the JayHawks
. 92-39!!! Such margins are usually reserved for our Bears. Its always nice to have some company in the boxcar, but when that other hobo tries to steal your harmonica, chickenbones, and whiskey flask, then its time to fight. This Nebraska squad closely resembles our own in terms of potential, caucasianity, and win-loss record. This just may be the opportunity for our Bears to record their 3rd Big12 victory of the season. With the Huskers down in the dumps, the International 3-Point Carnival, aka the Gentlemen Bears, may just be the team to exploit this train wreck (keeping with the railroad imagery). In fact, a loss by the Huskers may indeed result in Scott Drew
collecting yet another Big12 Coach's Head for the Trophy Case in the Will Ferrell Center
. Indeed, when a conference coach who hasn't been doing well loses to Baylor by a certain margin, his university usually grants Baylor to decapitate said coach and keep his cranium.
Doc Sadler: You are a poor-man's Billy Gillispie. Success at UTEP does not a Big12 success make. Be warned: another blowout loss, this time to the Bears, will have Nebraska's suits calling for your head to be displayed in Waco! Consider yourself on notice!
Labels: Aaron "The Emu" Bruce, Bring Me The Head Of . . ., Gentlemen Bears Hoops, HuskerMeat (Nebraska), Scott Drew