Around the Quad: Picking Up the Pieces
The BearMeat Editorial Board is still recovering from a disastrous weekend of BU sports. As if being swept by the Ags after our bold prediction was not enough, the baseball team lost to Oral Roberts on Sunday. So to recap: Scott Drew losing streak? In tact. LadyBears conference championship hopes? Dashed. Baseball home record? Sullied by fundamentalists. What's next, men's tennis falling to Waco High's JV team? Perish the thought.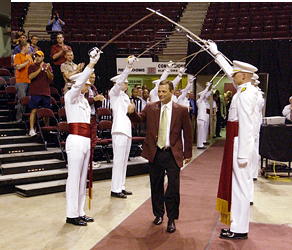 BCG: "Bow Before Me, WacoU. The Apprentice Has Become the Master."

Puting the past behind us, we now look forward to the weekend ahead, where The Streak, Pride, and a call for a resignation loom ahead - and all of this on Wednesday night. So, without further ado, we present the news from Around the Quad.

1. LadyBears face OU Obesketball for final conference game. The Paris Twins must be defeated. We care not how difficult defending the flubbernaut of Courntey Paris is; we care only for salvaging our pride in this face of our backwoods Okie foes. We call on Mulk to muster all her powers and bring the fury against Sherri "Trailer Mulk" Coale and her tubby legions of The Order of Ranch Dressing. This is a must win if we want to advance to and past the Sweet 16 this year.


Two Classy Ladies Who Advocate Size Over Skill

2. Gentlemen Bears final chance to end the Three Year Scott Drew Road Losing Streak at Tech. We call on Scott Drew to limit Jerrells control of the ball to 20 seconds per possession. We call on the guards to run plays closer in than 40 feet from the basket. We call on the coaches to attempt to run the ball, since our glaring lack of a front court presence makes the half-court game a futile enterprise. With three to four guards on the floor at any one time, we should utililze their speed.


Scott "The Streak" Drew: "I look forward to the final six years of my rebuilding plan."


3. Brandon Dean Price. You are our oldest and most loyal fan. You have been promoted from Intern-in-Chief to Associate Editor. Your comments have been witty and insightful. If you would like to venture a guest post on the BU-related subject of your chosing, the invitation is out there. When it comes to community voices, we want yours to be heard. Email us at president.andrews@gmail.com.
Labels: Around the Quad