Around the Quad: OU & Tech Game Day
As the three editors rolled out of bed this morning simultaneously (we sleep three abreast in a California King Size Bed when no interns volunteer for a "sleepover night"), our butler alerted us to the possibility of another loss to
O
beseketball
U
niversity in Norman and the continuation of the Scott Drew Road Losing Streak, which would make three years. While we hire our staff based on the degree of hopelessness in their personal life philosophy, this jaded comment so early in the morning was not well received. The Good Judge then resolved to write a masterpiece post on the OU game, due out before tip-off, Governor Pat resolved to have a nip of whiskey before his morning constitutional, and I, Red Andrews, gathered my immense girth and attempted to walk, unassisted, to the lavatory. Needless to say, we weren't in the most action-oriented mood. Not after last night's Jaeger-Bomb Drinking Comptetition between the BearMeat Editorial Board and the
toothless illiterates over at TAMU & Baseball
. We won, but it may have come at too great a cost: None of us can see this morning. Apparently we have drank ourselves blind. As we dictate this post to our Chinese Intern Sam Lin Le, here is the news from Around the Quad.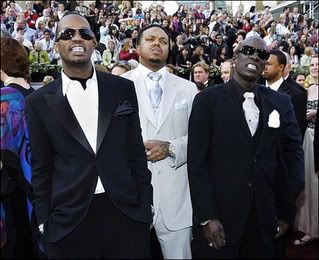 BearMeat Editors: "Not even temporary blindness can stop us from seducing white women."
1. OU Game tonight.
Not to wade too deeply into The Good Judge's OU post, I thought I might say this: Another game for Mulk in which we must prove to ourselves that we can beat Paris & Co. While we lost the Big12 Championship on Sunday, we still have our pride, right? This game will determine our conference tourney seeding and whether the BearMeat Editorial Board takes Mulk to DiamondBacks or Johnny Carino's tomorrow night.
2. Scott Drew Road Losing Streak at stake.
Is this the game that Drew finally sheds the albatross that has hung around his neck for three years? Will Drew collect Bobby Knight's head and place it on the mantle in the Colin Ferrell Center? Or will our shameful road losing streak continue on, evoking memories of Kevin Steele, Sonja Hogg, and Robert Sloan. Our fate is in the hands of the Savior of Gentlemen Bears Basketball,
Josh "The Slumlord" Lomers
. In case you were wondering what Baylorfans.com thinks about how long the streak will last, here is
a Zogby poll with a margin of error of +/- 17%.
Our Lord, JL: "Surely this day you will be with me in paradise."
3. Interesting Baylor Polls on Baylorfans.com.
Two other polls of note, both run by the Heart of Texas Polls, Inc., deal with
prognostications on next year's football schedule
and which
Baylor figure contributed the most to the B
; so far, Mulk is in the lead. Check 'em out, you might learn something about your fellow fans.
Sic 'em? Why not.
Labels: Around the Quad, White Women