Around the Quad: Lesbian Edition
1. Emily Niemann, Out of the Closet.
USA Today features
a story on the former Emily Niemann
, now Emily Nkosi, who left Baylor out of fear of losing her scholarship due to her homosexual lifestyle. We here at BearMeat had before called her the
Benedict Arnold
of BU Athletics, (perhaps that wasn't fair given her situation) so we now consider her the
Jim McGreevey
of the B.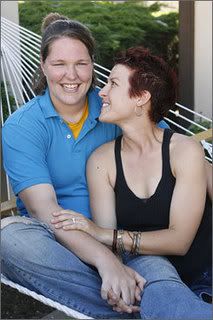 Emily Nkosi, Was Her Departure Another Curse?
While we believe the athletic department when it says it wouldn't yank the scholarship of any of its athletes due to their sexual behavior (we know some horny Aussies and Czechs on the tennis teams of yore who must have set some records for fornication), especially a player so critical to the revival of our national athletic reputation, we do sympathize with her, and wish that the B wouldn't foster a culture of secrecy and shame on this issue of the day. Even Bill O'Reilly seems to be on the attack when it comes to BU sexual orientation issues. How many potential athletes are we losing to Baylor's perceived puritanical reputation?
2. Pat Neffistopholes, Lost at Sea.
Speaking of the love that dare not speak its name, BearMeat hasn't heard from Governor Pat since he embarked on his post-Christmas sea journey around the world on a special recruiting trip commissioned by Ian McCaw. He was accompanied by Robert Sloan, Kevin Steele and Dave Bliss. We think the trip was designed to lift the curse on our athletic program, by ensuring a watery grave for those most responsible for the culture of defeatism.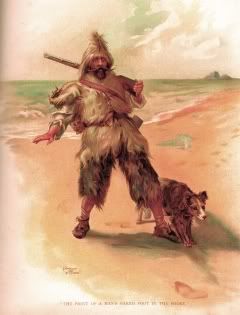 This Portrait of Governor Pat Was Delivered to Us
From the Consulate of Papau New Guinea

Sadly, we lost all communication with the Governor sometime after Three Kings Day. The last communique was bleak and alluded to the cannibalism and savagery of the "Recruiting Trip from Hell." On the bright side, we have been receiving various signs that he still lives (his BearMeat Platinum Visa account statement has been seeing a lot of whiskey and brothel charges recently). We hope to find him and have him report on the state of his recruiting trip within the next few days.
Labels: Around the Quad, LadyBears Hoops, Mutiny on the Burleson: Governor Pat's Recruiting Trip