Around the Quad: Her Name Should be Houston
. . . because its the fattest city in the U.S.
With the Singletary standoff grinding to a halt, we here at the BearMeat Editorial Board are scratching our heads for newsworthy events. A more conventional blog would have been all over the football signing class, but we here at BearMeat don't know anything about recruiting unless the player was 1) born in Bethlehem, 2) can perform miracles, or 3) fears neither God nor man. Also, some would like to see coverage of the LadyBears victory over the Texas Technical Institute LadyRaiders, but since it was only on TV at George's and we were too deep into a BigO drinking contest, we refuse to mention that the LadyBears triumphed over our West Texas rival. However, we could have sworn we saw Guy Morriss at George's guzzling BigOs and wearing Harley biker gear. Can anyone confirm or deny this? We'd normally put our interns on the case, but they have all come down with postpartum depression. So with that, we leave you with news from Around the Quad:
1. New BearMeat Alliance Members.
Our "you link to us, we link to you" policy has produced two new members of the Alliance: 1) Nebraska blog with a horny streak,
Double Extra Point
, is now an Oso Amigo. These guys are funny and have great photos of all the beautiful women associated with college football (mostly Erin Andrews and cheerleaders); 2)
blakeformayor.com
, is our new BearBacker, who was the first of our image piracy victims who had the courage to come forth. His support of the B is unparalleled as his blog and flickr account will attest to.
2. Courtney Paris Weighs Damn Near 240 lbs.
This NYTimes article
, emailed to us by a bleeding-heart liberal who refuses to check FoxNews.com or read the Washington Times, and therefore hates our freedom, troops, America, etc., uses the Paris Twins as examples of the touchy subject of female athlete weight. It features a great quote by Mulk, whose analogy I had only heard before over 25 cent drafts at Scruffs:
"She's a female Shaquille O'Neal" said Kim Mulkey, who coached Baylor to the 2005 national championship.
Regardless, the article made us see Paris in a new light: using a very soft-focus, wide angle lens of course. Seriously, we call on the BearMeat faithful to come up with a nickname for this beast, so that we don't have to use her Christian name anymore when ridiculing her. We need help here.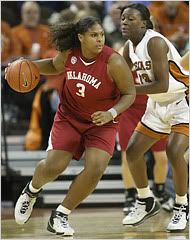 What kind of dressing would you like Courtney?
Let me guess: Ranch? Exactly.

3. Where is Governor Pat Neffistopholes?
Is he still alive? Rumor has it that his 136th birthday is coming up and he's asked for a computer with an internet connection for the big day. Once he gets it, he will come out of seclusion (in a cave in Cameron Park) and return to true form in fine fashion. At the Board meetings, he has been sending a small Filipino boy to be his representative, which has fueled the BearMeat rumor mill and been the source of endless racially-motivated hijinx.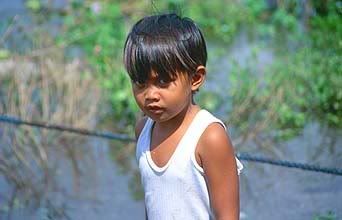 One of Gov. Pat's Many "Pages"
(Too soon for Rep. Mark Foley jokes?)
4. That Losing Streak.
How long will the Gentlemen Bears continue to lose conference road games? We here at BearMeat are deeply ambivalent about "The Streak" since it does seem to be bringing some publicity to the B, but on the other hand its not good publicity. What to do? Part of the Board wants to see the streak continue for many years, culminating in a win in 2012 (coinciding with the Vision) over the Texas Shorthorns, just as we simultaneously pass them in the US News & World Report rankings and into the top spot on the AP poll for college hoops. Just a dream, you smirk? Hardly. Drew is laying the ground work for a national championship in 2012. You heard it here first.
2012 Vision: Surprisingly Far-Sighted

BREAKING NEWS: DALLAS COWBOYS REJECT SAMURAI MIKE SINGLETARY AS BLACK HEAD COACH OF COWBOYS; OPT FOR OLD WHITE MAN INSTEAD.

I mean, did they not read our
10 Reasons post
? Were our arguments not compelling enough? What's going on here? Who knows. All we know is that the Cowboys had a historic opportunity, but again Jones goes with the washed-up white guy instead of the true winner: Singletary, The Minster of Defense. So much for our Cowboys coverage.
Labels: ALICO Building, Around the Quad, Gentlemen Bears Hoops, Interns, LadyBears Hoops, Mulk (Kim Mulkey), Samurai Mike (Singletary), Scott Drew, SoonerMeat (Oklahoma)