AgricMeat: Weekend Sweep Predicted
From a less homoerotic era at A&M
The BearMeat Editorial Board has thought long and hard about how we are going to cover this weekend's games against A&M. On Saturday, the Gentlemen Bears journey to College Station to again face the Aggies and rekindle the
100 Years War between our schools
. On Sunday, the LadyAgs travel to Waco to attempt to defeat our LadyBears for the second time this year. We thought we would remind our readers that we have dealt with the Agriculturalists in some detail this past school year, proving beyond the shadow of a doubt that they are the
Big12 equivalent of North Korea
, showing how A&M football would be depicted as
Garbage Pail Kids
, and chronicling
an illicit affair
between the Good Judge and an Amazon Lady Aggie.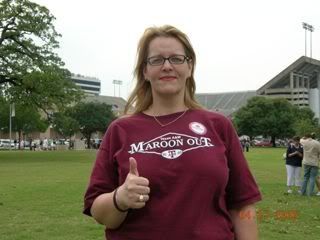 Aggie Homecoming Queen: The Good Judge's Only Aggie Conquest.
However, we are not quite done with the Ags and their ilk. No, we of the BearMeat Editorial Board formally Declare War on
Texas Ass & Mule
, challenging their bloggers to come with their heavy guns against the B. Do they have anything to fire at us? We doubt it, since most accrediting institutions regard an A&M bachelor degree as the equivalent of a middle-school education. We therefore predict a weekend sweep of the Aggies, both the men's and women's teams, with the greatest Baylor triumph in recent memory (Nebraska victory notwithstanding). How are we going to achieve this goal. Let us list the reasons why this upset of two top-ranked teams is an inevitability.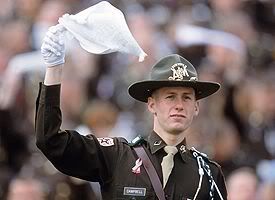 The Corps: Let's Play Army - "We Surrender"
1. Aggie Arrogance.
Never before have the LadyAgs and ManAgs enjoyed such dominance in the realm of roundball. This is new and unfamiliar territory for the Ags and while before they regarded Baylor as a worthy opponent (
LadyBear 2005 National Champions
; Two close victories over the International Three-Point Carnival last year), the Ags are now thinking Final Four. Don't count out your Brazos rival, because the LadyBears are clicking on all cylinders and the Gentlemen Bears are spoiling for an upset. Don't sleep on the B. Just because your school produced a
competent Secretary of Defense
and
a corrupt governor
who used to be a cheerleader doesn't mean a thing when it comes time to hardwood showdowns. Just because you have a Bush Library
and we don't
doesn't mean you can hold your heads higher. Pride cometh before the downfall and hubris has brought down many a warrior. Tread lightly, Ags, for the Bears lurk in the woods and are ready to dine on a collie.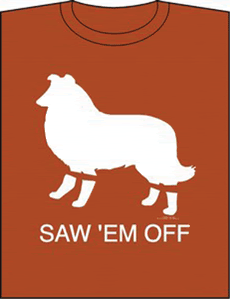 Saw 'Em Off, Indeed

2. Mulk > Gillispie. We have a national championship-caliber coach who will destroy all Aggie hopes and dreams. While the two coaches won't personally square off, they embody the winningest traditions of each respective school. We love Gillispie's CenTex roots, but when it comes to winning, the proof is in the pudding. Both Billy and Mulk have turned loser programs around, but the jury is still out on Billy Boy. Rankings are one thing, but Tourney success is quite another. Mulk will do anything to win, including sacrificing her first-born; can the same be said of Gillispie? This weekend Mulk plans to relieve Scott Drew of head coaching duties so that she can collect two wins pulling double duty, while keeping the Scott Drew Road Losing Streak in tact.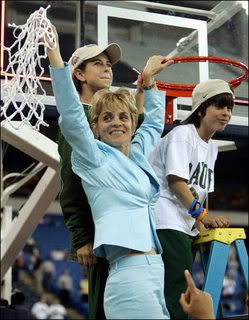 Will Gillispie Ever Cut Down Nets? Doubtful.


3. The Court at Reed Arena. Is there any doubt that this court is the ugliest in America. In fact ESPN.com deemed it so in their review of college basketball courts. The combination of the ugly parquet floor, the arc-to-arc giant Texas outline, and the T with the star (discontent with the old "aTm" logo, are we?), makes this court a visual abortion. No national champion can emerge from a home court that violates this many aesthetic principles. This court is an enemy of all that is good and will begin to warp the minds of those who play on it day in and day out. We suspect that eventually this court will develop a reputation for eating souls and being an affront to the Living God. There is no excuse for this monstrosity, except that it was hatched in a school known for the barnyard arts, not the architectural arts. This court alone will give our Bears an enormous psychological advantage as we are accustomed to playing in the soothingly green Will Ferrell Center. Our mental tranquility will surely triumph over the chaotic, sociopathic logic that stems from Reed Arena's tragic court.
Reed Arena: What Hath College Station Wrought?
Labels: AgricMeat (Texas Aggies), Gentlemen Bears Hoops, LadyBears Hoops, Mulk (Kim Mulkey), Scott Drew