AgricMeat: The College Station Chawbacon Challenge
In the spirit of the two big games coming up this weekend, we here at BearMeat have decided to look into a phenomenon that happens once a year in Agric land: Thinking! I know that comes off as a little startling to imagine an Agric putting on the ol' thinking cap, but it happens. And apparently only in April.
Each spring, the Ideas Challenge asks students from across campus, "What is your big idea?" We challenge everyone from freshmen to doctoral students to dream up the next great product or service and enter their big idea in this campus-wide competition.
In honor of this shocking news, BearMeat will be unveiling random golden nuggets from past winners of the Agric Ideas Challenge. Or as we call it...The College Station Chawbacon Challenge!
Let us delve into the 1997 winner of the Chawbacon Challenge. Cadet Biff McMasters was just a sophomore back then. His aspirations were simple and, quite honestly, meager. As a young teen Biff lost his left testicle in a tractor racing accident while imitating a scene from his favorite movie starring his childhood hero: Footloose; Kevin Bacon. His tools in life would be his strong over--sized hands...and his soul. His work on the farm matched his work in the classroom, earning Biff a coveted Sul Ross Scholarship. By the way, obtaining the Sul Ross Scholarship is no small feat according to aggiecorps.org:

In the past three years, every Corps freshman who applied has received one of these prestigious Corps scholarships.
Well done, Biff. Well done. By his sophomore year, he had heard about this "thinking" challenge once or twice. And on March 30, 1997 Biff set forth to claim the title of 1997's Chawbacon Champion. And so he did. His thought? The Tilty Camera. His life? Changed.

The following images are artifacts and evidence of Cadet McMasters glorious victory. Thanks to the George Bush Presidential Library for letting BearMeat display these sacred images.
The following is Cadet McMasters' Entry Form. Note the tender ruggedness of his prose.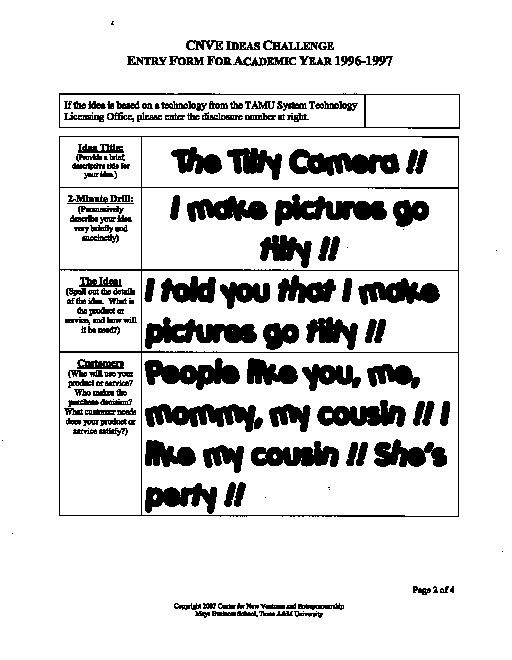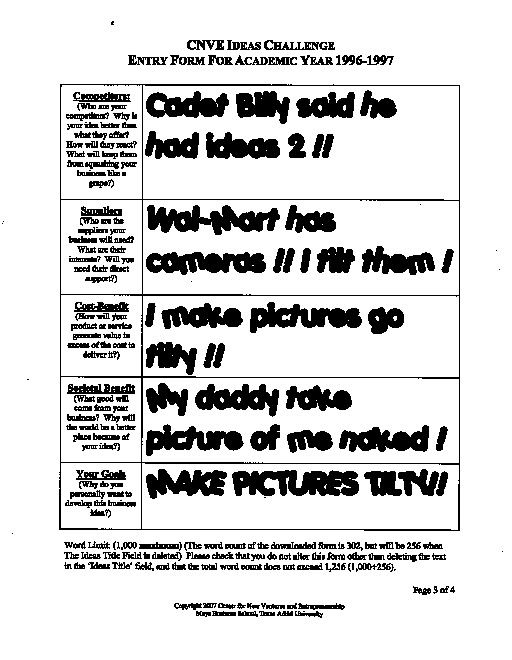 Biff McMasters' revolutionary "tilty camera."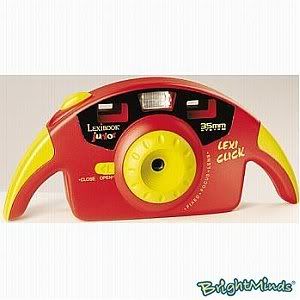 This is the "shot" heard (or rather...seen!) 'round College Station.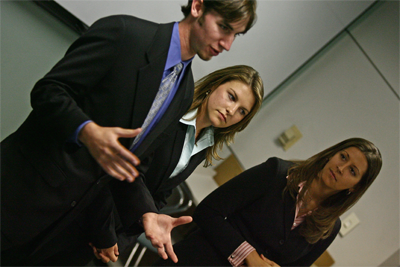 A rare photograph of Cadet McMasters and Cadet "Billy." Note the lack of tilty-ness!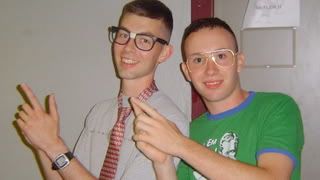 McMasters claims his inspiration comes from his mentor/girlfriend, Ann. She's pictured here with her band,

Something Fierce

, at College Station's own Hurricane Harry's.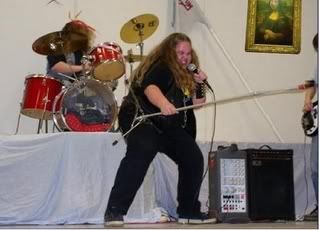 "One night in Paris?" The tilty craze has caught on with everyone in the Corp!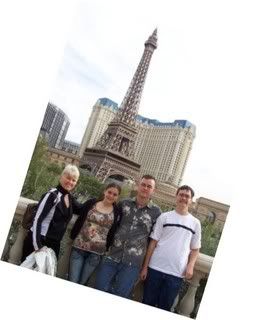 Be sure to check in soon. BearMeat will be looking at more past champions of the College Station Chawbacon Challenge.
Sic 'em!
Labels: AgricMeat (Texas Aggies)