AgricMeat: BCG Addresses Texas Ass & Mule
[BearMeat Exclusive: What follows is a transcript of a speech made by Billy Gillispie at a Baylor Weekend Pep Rally at College Station last night. Attendees included the team, fans, Corps, senior administration, and Chet Edwards. The crowd was clad in all maroon and carried torches and baseball bats. A BearMeat intern was able to blend in with the crowd wearing nothing but a pair of old boots, overallls, and a flask of whiskey. Said intern was able to transcribe the speech using a quill pen and some parchment, since there were no laptops available within a 50 mile radius. The transcript was delivered to us early this morning while the BearMeat Editorial Board was just finishing up our evening festivities. - Eds.]
2004: Aggies Cry "Anomaly"
How To Defeat Baylor
by Billy Gillispie
Gig 'em, Ags! Saw 'em off! I greet you as we near the end of conference play, in this, the greatest season of A&M hoops in our illustrious history. Aggie fans have great hopes for the post-season this year, and I assure you that my aspirations for this year are no less than yours. However, before we enter the Big12 and NCAA tourneys, we must dispense with the Baylor Bears.
[Crowd laughter]
I know, I know. Sounds pretty easy. However, there are a few things you might want to consider about this team. Not many of you may know this, but years ago I assisted Baylor coach Harry Miller on the bench up in Waco. What I learned about Baylor I will never forget; the Bears care only for defeating Texas A&M. While they haven't been able to compete with our football team in 20 years (save the 2004 meltdown) and have been owned by our hoops squad the last three seasons, these Bears live for our demise.
[Crowd chuckles]
While it shouldn't be too difficult to take down Scott Drew's
International Three-Point Carnival
[crowd yells],
my staff has been doing in-depth research on the weaknesses of the so-called Gentlemen Bears. One of my graduate assistants has located a website that has been chronicling the weaknesses of this team. When we located the contributors to this site,
we found them drunk and surrounded by obese women
; after a few more drinks they confessed in great detail exactly how to beat the Bears. What follows is what the BearMeat Editorial Board told me about the weaknesses of the
Scott Drew Three-Point System
. If we follow these simple steps, we can avoid the
Melvin Watkins debacle
. His head rests in the Will Ferrell Center in their trophy case to this day.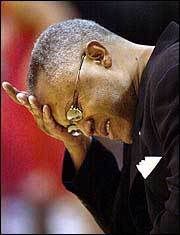 The Head of Melvin Watkins
1. Guard the Three-Pointer.
This team is obsessed with shots from beyond the arc. Their 3.5 Guard Offense loves to heave up the three-ball. No Big12 team shoots as many threes in conference; thankfully, they shoot only 33% against conference opponents. If we want to stop this team, then we must stop the three-ball. Or not. Chances are, they will make about 8 3s and still lose. Gig 'em!
[crowd responds by screaming "Gig 'em" and trying to "thumb" each other]
2. Play them at Reed Arena. Since February 2004, Scott Drew hasn't been able to win a single game on the road. By double-checking and confirming with Reed Arena, we can guarantee a win even before the tip-off. The Bears are famous for playing the 30 Minutes of Hell, so even if they are up going into the final 10 minutes, we know they will fold for lack of veteran leadership and linguistic barriers, which leads to my next point.

3. Give Them Ample Opportunities to Communicate. With 2 players from Africa, one from Scandanavia, and an Aussie, the Bears suffer from "Tower of Babel Syndrome" in which they are unable to function due to language difficulties. To their credit, they only run one play (low screen for 3-ball on the wing), so they don't have to talk too much. If we call enough strategic timeouts they will begin to talk and, thus, confuse themselves. Can I get a "Howdy"? [Crowd responds with a vigorous "Howdy"]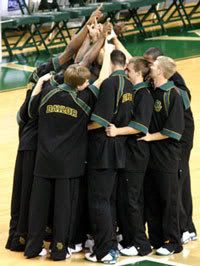 A Recipe for Miscommunication
4. Pound the Ball Inside.
With
two 7-footers who are committed to playing Hack-a-Shaq
defense regardless of opponent, they will pick up fouls faster than a pig in a field of truffles
[much cheering and whooping in acknowledgment of this metaphor].
If rail-thin Mamadou is on the floor, we'll have Joe Jones go at him, Barkley-style. If Lomers is on the floor, we'll run the ball, because he runs the 40 in about 3 minutes. They will both foul out after playing 15 minutes at most. All our statistics prove this. When we force Baylor to go into their 4-Guard Offense at the end of the game, we'll kill them inside.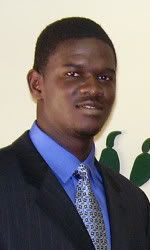 In Senegal, They Let Me Play Point Guard
5. Neutralize Darth Baylor.
In case you didn't know who he is,
Darth Baylor is the Sith Lord
that presides over every home game, bringing lightsabers and his mastery of The Force to bear on our Aggie teams. We need the power of the
12th Man
to defeat this
Dark Lord of Waco
. I call on all A&M loving students to take this chump out.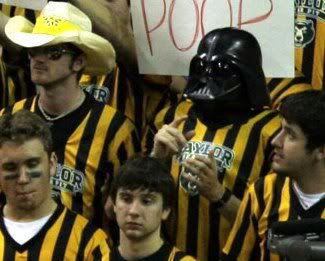 You must confront Darth Baylor
6. Prepare for the Next Game.
The best way to deal with Baylor is to prepare for the next game on the schedule. The easiest way to lose to the Bears is to overprepare. Since their game plan is the least organized in the Big12, you can easily psyche yourself out by trying to overanalyze why they shoot 3s on every fast break. So in our case, we will vigorously study game film for
how to stop Kevin Durant
and those pesky Shorthorns
[crowd goes into convulsions, screaming about teasippers and sawing off horns - ambulances arrive to treat the scores of seizures among the crowd].
That having been said, I look forward to trouncing BU and moving on to bigger and better games. Now, let the festivities commence.
[A grizzly spectacle follows of sawing off the horns of a live steer and then slaughtering the beast and dancing in its blood. Then a re-enactment of Acie Law's "The Shot" follows with Yell Leaders in loin cloths pantomiming Law IV's last second heroics against TU.]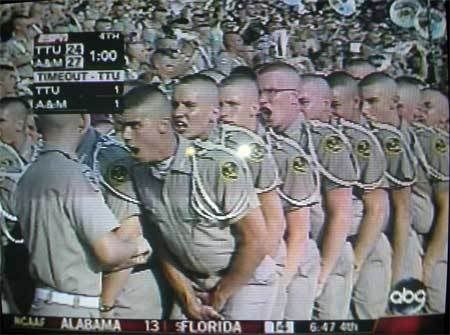 Yet another Aggie S&M Ritual
Labels: AgricMeat (Texas Aggies), Interns, Scott Drew