BearMeat Turns A Hundred
I've been informed this is our 100th post. We've come a long way since this summer when Red, Pat, and I were sitting outside Collins drinking Red Dog out of paper bags and discussing the future of the B's athletic department. Well not too far, I just returned from Collins, but this evening the discussion centered on our favorite feature of Cetaceans, i.e. whale tails. We were optimistic. We believed that this had the potential to be a turnaround year. We desperately wanted a bowl. We just barely missed out last season. Now, two games left in our season and still two wins short of bowl eligibility, we expect this season to end with more frustration. We lost our QB to a terrible injury. We lost to an Army team we should have beaten. We lost a heartbreaker to WSU that could have been won.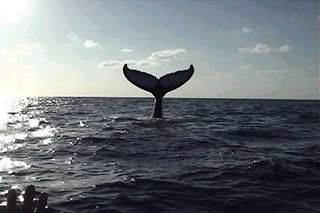 In fact, other than UT and the most recent drubbing, the B has been in the position to win all season long. And that is very different from a few seasons ago. Before, the frustration centered on us losing by 40, now its frustrating because we have a chance to win but can't always finish it. That's progress, slow painful progress, but a sign that things are going in the right direction.
I only bring this up because I've seen more than a few rumblings on
baylorfans
highly critical of Guy-Mo and what he has done since his arrival. I feel your pain, on a few occasions I've lost my sense of perspective, but let's be realistic. The B's football team has been unequivocally the worse team in Big 12 history. We won six conference games in nine seasons. Not only were we the worst Big 12 team, we were arguably the worst team in the BCS conferences over an entire decade. We play in the same division, not just conference of two of the best programs currently and historically in college football, UT and the Okies. When Guy-Mo came in he had to rebuild a program in complete and utter disarray. Not a lot of top coaches would even consider taking over this program. It cannot be understated how far this program had fallen during the Bobby Sloan years. We were nothing less than atrocious. Guy-Mo walked into that and has turned things around. Our five conference wins in the last two seasons is one short of the total for the previous nine seasons. Our recruiting class is supposed to be the best since we joined the Big 12. So I ask you, "What are your expectations?"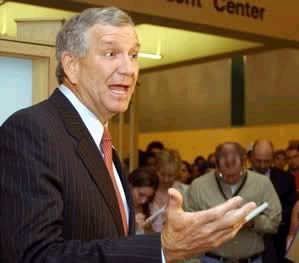 Do think the B is going to be a national title contender? Regularly win the Big 12 South? If so, your problem isn't with the coach, it's with the school. Nothing, not even the Grant Teaff years, should suggest to you that the B could or will win more than 7-9 games annually. I'm not saying that once a decade or generation, a special team couldn't win the South or maybe even the Big 12, but that will be the exception not the rule. There's nothing wrong with that. I'm still optimistic, but I still have a basic grasp of the situation the B is in and what we have been able to achieve historically. We should be in bowl games and the more we win the easier recruiting will be, but Guy-Mo is still digging us out of our hole. Remember top recruits don't want to play for losers. You have to win to get great recruits and it's hard to win in the Big 12 without great recruits. We also need stability. I think Guy-Mo has done a lot with very little and has earned at least three more seasons of mediocre records before we should even consider another coaching change. If we aren't in a bowl by 2009 let's talk, until then let's appreciate where we've been and look forward to competing again.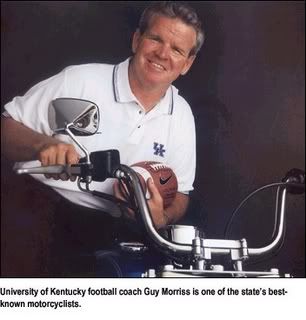 Labels: Robert Sloan