And So It Begins...
We are basically starting a new squad this season, but I'm sure Mulkey will make the team successful. UNT isn't exactly a powerhouse but a
37 point
win is nice to see. It looks like we have some serious
freshman
ballers
. I'm sure a tournament run is in our future.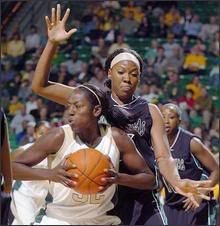 And yes, I'm currently watching the OSU game. Its halfway through the second quarter. I'm going to limit my comments until the game is over, in order to save myself and university great embarassment, since I'll say things I'll regret once I sober up.
Labels: Bernice Mosby, LadyBears Hoops, Mulk (Kim Mulkey)