Texas University Playing Cards!
This just in! BearMeat has unearthed a major coup right before this weekend's hotly debated IH-35 contest featuring the High Flying Tarts of Austin and your Baylor Bears! Introducing "Texas University Playing Cards." Slowly but surely, BearMeat interns will be scanning each of these suckers in for your daily reading and perusal pleasure. Remember, I said slowly, folks. Due to the fire at our home office at Sonny's B.Y.O.B. All Nude Revue, our brand new Sharp AR-4000 ScanJet is out of commission until financial restraints are lifted after our federal copyright infringement case, BearMeat.blogspot.com v. BexarMeat Cock Ring Distributors, Inc., is settled.
Without further ado....The Jack of Spades!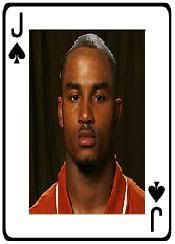 Tarell Brown


THE BROWN FILE
Nickname: T Boogie, Brown Out
Favorite movies: Drumline, Friday After Next (Friday was just too contrived)
The worst movie I ever saw: Undercover Brother (Mayonnaise is just plain awful)
Favorite actor: Towlie
Favorite actress: Vivica Fox
Nobody knows how much I like to: Crank one out in the shower
Favorite TV show: MTV Cribs, All In the Family
Favorite music groups: Cash Money, Lil'' Flip, '85 Bears
I'd like to star in a music video with: Ashton Kutcher
Favorite car: Whatever Aaron Harris is driving
The biggest influence on my football career: 2006 Bengals
If I were to play another sport, it would be: Basketball, because it was my first love. No, seriously, I lost my virginity to a Spalding Infusion Max Inflate with Micro Pump. Sweet Jesus, it felt good!


Tomorrow, we will be scanning in the Queen of Hearts. Let the predictions begin!
Labels: BevoMeat (Texas), Football, Interns, Playing Cards