Noodleous doubleous
Good morning and bless this beautiful central Texas weather. If I knew that the state of Florida was going to come to Texas, take a shit on Corpus Christi and forward the deposit to my humble community, then I would have never left my green and gold race car bed. But such is the life of a BearMeat editor.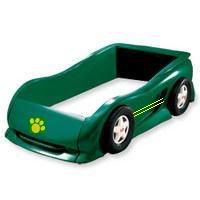 As you might have noticed, you should not count on me to review past games. I chose to finance the "plain jane" car bed at 4.9% apr instead of the "fully loaded" at 7.2%. So instead of a drop-down HP laptop, streamlined T-1 connections and countless ladies with their philistine tastes, I have been saddled with a debt of fake steering wheels, uninviting prospects from the clinic and insobriety.
So let us look ahead to the upcoming fixture on Saturday. With Baylor being favored by 3 in the early lines, there is no mistake that this weekend's game will make or break the B's chances of making it to a shitty bowl game. First and foremost, Kansas is 117 out of 119 in pass defense giving up 281.7 ypg. Thank you, Jesus. Theoretically, Shawn "Kool" Bell and the Gang should dominate Mangino's front-butt pass defense, but the Bears have the uncanny ability to self-destruct after magical moments. And I really can't imagine seeing another Bell random act of kindness towards the defense. Luckily, Baylor television games are few and far between and John Morris couldn't do play-by-play on a one legged duck swimming circles in a pond.
Flying Spaghetti Monster
is real and the homecoming parade is lame. RAmen.