BevoMeat: Predictions for the Bears-ShortHorns Game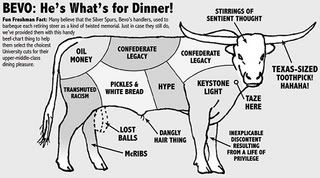 [Image compliments of Texas Travesty.]
All eyes are on the Battle for the Big12 South. Two undefeated (in conference play anyway) titans of the gridiron square off in their second century of the historic rivalry. Will it be an
I-35 Surprise
as C.J. "Nostradamus" Wilson so boldly predicted? Will we see the Fightin' Bears upset the ShortHorns? Or will it be yet another "Behold, the Glory of Rome!" TU blowout of the "Bible Aggies"? And, most importantly, where does BearMeat come down?
To be quite honest, we're a bit pre-occupied with the following quote, posted on BON by Michael Timmons:
Warning: Bear Meat
All BON bloggers should be aware that Bear Meat is
only a front for closet homosexuals to meet.
Baylor University is:
30% hot girls

30% ugly girls who dress nice

1% straight guys

1% openly gay guys

38% closet homosexuals

...but congrats Bears for winning the Big 12 Asshole Bowl last week against CU. For once you are the givers not the takers.
Such spite is unbecoming of the imperial longhorns. Perhaps the loss to Ohio State has jostled the confidence of the Burnt Orange legions. To set the record straight (pardon the pun), of the 38% closeted homosexuals, 50% are transgender, 25% are bi-curious, and 23% pee neither sitting down or standing up. These statistics were provided to us by the Baylor Sociology Department, if you dare question our numbers.
[Actually, the guy-girl ratio at Baylor is one of the best in Texas for straight men, save the women's colleges. While there is a tiny, silent gay population at Baylor, it is much too busy hiding from homophobic biggots like the above commenter, whose type is all-too present in all our fine institutions of higher education in the Great State of Texas.]
Rant aside, we predict an overtime thriller, with Bell bootlegging a two-point conversion to put BU over TU for the first time since '97. 1897, that is.
Hook 'em? Nah, Sic 'em.

Labels: BevoMeat (Texas), Football