Aggie Pail Kids, Series 2
Hello again. Let us continue with some more fun natured ribbing of our southern Brazos neighbors. And we all have seen what the Brazos looks like. Definitely explains why a certain Aggy Corp Member named Pisshead McKenzie recently claimed online, "You see, we really ain't squeezing our balls, we just massaging our lil brains...cos the teams done gone too much scoring." Tsk, tsk, tsk. Thumbs up their asses.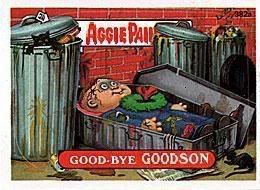 Fun Fact:
I was one of the top Texas prospects coming out of high school this past year. My pops played basketball for Pittsburgh and my mommy was an Olympic sprinter. Oops, I became an Aggie. Now all my hopes and dreams are crumbling before me. If Fat Man Lane wasn't in the way I could be a 100 yd. per game rusher. He smells like rotten cabbage too.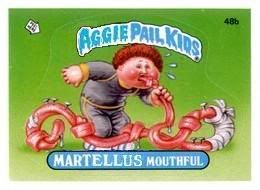 Fun Fact:
Hey, hey, you all! I'm Martellus and I'm founder of the Central Texas Chapter "Legion of Doom" Local 304. On Mondays through Thursdays we like to gather around and play World of Warcraft together; Fridays we convene at a local laser tag center with prizes going to the highest scores. Of course, Saturdays are the LOD's Douche Days. And Sundays are days of self-reflection. Go Doom!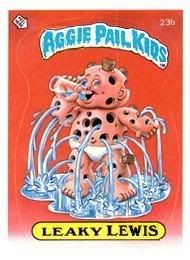 Fun Fact:
I'm part of a special trio of strapping young men located in A&M's backfield...if you know what I mean. I love the floral/cabbage scent of hot totty Jorvorskie. He's a Pole's Pole! And my what a find that Goodson is. Also, don't get me started about Marty Martellus! Yes sir, boys, I do like to step out from the back sometimes. That boy can spread his lesion of womb all over me.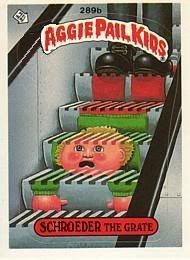 Fun Fact:
Last year, I was deemed "Mr. Touchdown" by the Aggie faithful for scoring 5 TD's on my first five touches of the season. Unfortunately, I only scored one more touchdown in my next 7 games. They then started calling me "Wussboy from Westlake High" and "He Who Snaps When One Hits Ground" after I broke my leg in the eighth game of the season. I'm fairly certain that C.J. Wilson will tear my body in half and devour my vital organs. Pray for Schroeder.
Fun Fact:
Do you know who I am? I'm the second leading scorer on the team this year. I'm from Hondo, "God's Country, Don't Drive Through It Like Hell." I'm captain of the Aggie Broseph Club, aka ABC (our pledge brosephs can remember that better). I'm a kinesiology major, so I'll probably see you in a couple of years at Gold's Gym selling anabolic steroids and sad stories. I'll take care of you in the bathroom. I'm irrelevant.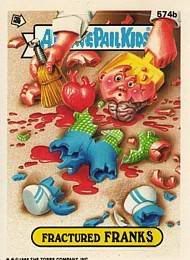 Fun Fact:
I really don't play much. I am the main kickoff returner, but I'm really just too short and my potential has run dry. This was supposed to be my breakthrough season with easy games left and right, but I have only had 8 catches this season. I got real lucky against Missouri. Like the rest of my team, I need help from officials, turnovers and penalties to succeed. I can't do things on my own. I'm a poor, poor Aggie.
Labels: Aggie Pail Kids, AgricMeat (Texas Aggies), Football