Aggie Pail Kids, Series 1
Ladies and gents, I would like to formally introduce to you BearMeat's 2006 collection of Aggie Pail Kids. This is the first out of a three part series which will be unveiled in the forthcoming days. Let's put the "cultural" back in Agriculturalists!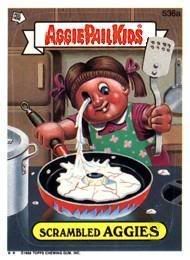 Fun Facts:
Our mascot is a collie. Collies are easy to train because of their mid-level intelligence and eagerness to please. Our collie is the highest ranking member of the Texas A&M Corps of Cadets. As a result, the Corp is usually dumber than dogs. Go Aggies!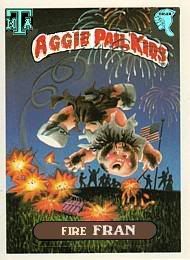 Fun Facts:
I brought the Ags their first losing season in twenty years. Unlike collies, I have no sense of loyalty. In 2000, I left TCU before their bowl game and accepted the job at Alabama. Additionally, I showed up to the Heisman ceremony, featuring LaDainian Tomlinson as a finalist, wearing a crimson tie and speaking of the greatness that is the Crimson Tide!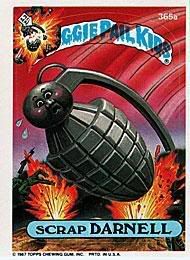 Fun Facts:
I was an assistant coach to the great John Mackovic. I led two of the worst defenses in ShortHorns' history in 1995 and '96. I was fired from my previous job at the powerhouse that is known as Western Michigan. Lou Holtz once annoited me as the "Captain of the Pink Shirt Brigade."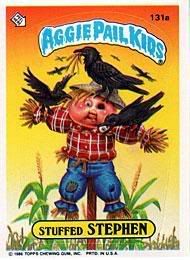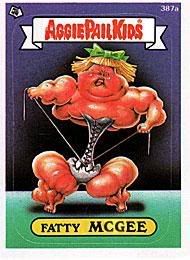 Fun Facts:
I have become the poor man's Bucky Richardson. This season I led the offense to 7 whole yards in the first quarter against seminal power Louisiana Tech. I can easily guide a creampuff team through a creampuff schedule. My QB rating against Texas Tech is exactly the same as my IQ: 78.26. I'm an Aggy!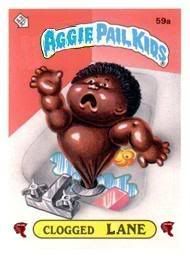 Fun Facts:
I'm a big boy. I eat a least 11 cans of corn a day. I thought Judas was the twelfth man. I once ate an entire chocolate Judas during my Sunday School class. That was last Easter. If I had a twin, I would ride miniature bikes with him. I would like it if he had a mustache. I just poopied my pants. I found a raisin!
Labels: Aggie Pail Kids, AgricMeat (Texas Aggies), Football