Offensive Offense: What's Not Wrong?
First, can we please get the game on tv? Is that too much to ask for? When the B messes up I want to be able to see and hear the critical error. I want to scream at the tv, before it is picked off. Can we at least stream them online? I'll drop the $5.
Back to the field. The B has the worst running game in the nation, 19 ypg. We also have 22 points in our two games not against Division I-AA schools. That's a total, twenty-two. Arline's fumble return for a TD means that our offense has scored only 15 points in those two games. At 7.5/game we have the equivalent of a very powerful baseball offense. It also means we are going to lose a lot of games. Yes, the B has been losing a lot of games for years, but this season seemed different. Our team is better, I think. Our defense is solid. C.J. Wilson looks like a 1st round draft pick. But our new system is either not working, still developing or we don't have the parts to make it work. I'm sure most of the guys on offense are nice enough, but they have a tendency on an individual and collective level to make mistakes when they are presented with the best chances to score. The B should have beaten TCU, but the offense continued to make critical mistakes in scoring territory. Flash forward to WSU and we are moving the ball with a chance to really put the Cougars in a hole and Bell throws a interception. Ok, another lost opportunity. But we still are dominating defensively and then the critical fumble to let them score their 1st TD.
Its almost as if the B's football team is afraid of success. They seem to sabotage themselves at every turn. Just when you think they are going to win a game, they blow it. It is hard to assign blame since they won't show the game locally. I realize passes were dropped and maybe our play calling is not great. But I think that our Senior, experienced QB is not quite up to the challenge. He seems to make the right decisions and complete lots of passes until it matters. I for one am hoping that we have someone coming down the pipe that can take this offense to the next level. I think Guy-Mo is a good coach and is changing the program, but I'm not sure that the key players can take him where he wants to go. I hope I'm wrong about Air Bear under Bell, but until he proves otherwise I see little reason to be optimistic about this season. Is it possible to go forward and backward at the same time? If we lose to Army I plan on starting a campaign to bench Bell in preparation for the future, Blake Szymanski. I know it may be a bit premature, but if we are 1-3 going into conference play, our season for all practical purposes is over, so we might as well work on next year now. I'm real glad Colorado is on our schedule this year.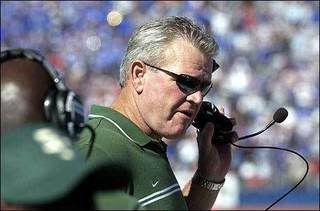 Labels: CougarMeat (Washington State), Football